Material Issue 3 Non‒Wasteful Usage of Products, Ingredients and Energy
To fully implement its initiatives to reduce its environmental impact, Seven & i Holdings is establishing a system of environmental management and striving to attain a proper grasp of its environmental impact through third-party audits of CO2 emissions.
Seven & i Holdings aims to reduce its environmental impact. To this end, we are promoting acquisition of the international standard ISO 14001, and we conduct annual internal audits at the operating companies that have the certification. Sogo & Seibu became the first in the department store sector to acquire ISO 14001 certification in 1999, and has maintained it continuously at all business sites. Furthermore, SEJ acquired the certification at the end of February 2015 for its offices and directly managed stores throughout Japan. Seven & i Food Systems also acquired the certification in February 2015, and IY Foods in February 2016. The sales ratio of the operating companies that have obtained ISO 14001 certification is approximately 50% of the Group's net sales.
Eco Action 21 Certification Acquired
In collaboration with the Nihon Delica Foods Association (NDF), SEJ shares information on examples of initiatives that have substantial energy-saving effects at biannual nationwide CSR promotion conferences. SEJ also confirms the need to create system that can respond to a variety of environmental issues including compliance, continuing energy-saving measures, and reducing CO2 emissions.
Based on the results of the confirmations, SEJ declared that it will utilize Eco Action 21 established by the Ministry of the Environment. SEJ is taking action such as holding briefings and acquired certification at 21 plants of six companies that produce daily products (as of February 28, 2018).
Third-Party Audit of CO2 Emissions
To correctly assess and verify the initiatives taken to reduce environmental impact, each year since 2015, Seven & i Holdings has undergone third-party audits of CO2 emissions from store operations. In the fiscal year ending February 28, 2019, audits of 12 companies* will be conducted, covering about 96% of the Group's total sales. The CO2 emissions associated with store operations by the 12 companies in the fiscal year ended February 28, 2018 were 119,693 tons for Scope 1, and 3,089,996 tons for Scope 2. Moreover, we underwent a third-party audit of the data for the Category 1 emissions of SEJ, which accounted for about half (9,489,144 tons) of the Scope 3 emissions, thereby helping to improve the accuracy and reliability of the quantitative data internally and externally.
*
The twelve companies are: SEJ, IY, Sogo & Seibu, YB, York Mart, Seven & i Food Systems, Akachan Honpo, THE LOFT, SHELL GARDEN, Life Foods, IY Foods, and 7-Eleven, Inc.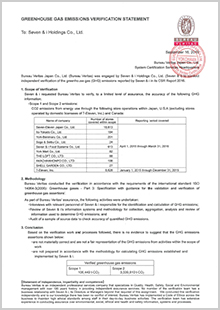 Third-Party Verification Report
At each store of the Seven & i Group, in addition to the daily efforts made to conserve water, water-conserving faucets and energy-saving flushing toilets are also being introduced. Furthermore, through utilizing rainwater and so forth, we are working to reduce the volumes of water used. In the fiscal year ended February 28, 2018, water usage in conjunction with store operation was 38,439,000 m3*, an increase of 1% compared to FY2016 in conjunction with an increase in the number of stores.
*
Eight companies included: SEJ, IY, Sogo & Seibu, YB, York Mart, Seven & i Food Systems, Akachan Honpo, and THE LOFT
At Seven & i Holdings stores, devices using CFCs are replaced with ones using CFC alternatives during remodeling and so forth. Moreover, in compliance with the Act on the Protection of the Ozone Layer Through the Control of Specified Substances and Other Measures, which was implemented in April 2015, devices undergo regular inspections and leakage assessments required by the government. Devices using CFCs are disposed of by professional companies in compliance with the law, and stores receive collection certificates from these contractors as proof of appropriate disposal. Substitute CFCs include HCFC (hydro chlorofluorocarbon), production of which is to be banned in developed countries by 2020. As this will require a changeover to another type of substitute, we also plan to further promote the introduction of non-CFC devices in freezing and refrigeration devices used at our stores. At SEJ, refrigeration devices that utilize CO2 refrigerants have been introduced at 145 stores (as of February 28, 2018), and we are trialing them at 6 IY stores.
Initiatives for Material Issue 3