Material Issue 2 Providing Safety and Reliability through Products and Stores
Building Quality Control Systems
Seven & i Holdings is working to introduce international management system standards and management methods regarding quality and hygiene in order to provide safe and reliable products to customers.
Establishing a Foundation for Quality Control in Each Group Company
Seven & i Holdings is working to establish quality control systems, recognizing that a product incident at one Group company affects the entire Group. Product control officers at the development division for the Seven Premium private brand, 12 Group companies that handle food products and 10 that handle apparel and household items meet regularly to share their policies and information. These activities are designed to prevent incidents and strengthen the Group's ability to respond rapidly when incidents occur. Specifically, Group companies are working to establish the following foundation for quality control.
Establishing a Foundation for Quality Control
A system with a dedicated department that can respond to incidents objectively.
A system for reporting major incidents quickly to the top management.
Guidelines for judging whether to recall products or continue sales if a serious incident occurs.
Adoption of the NDF-HACCP Certification System
SEJ has adopted the HACCP*1 (Hazard Analysis and Critical Control Point) method since 1997 as a method to manage food hygiene. In addition, for review and certification of the quality control status of dedicated plants, we check their compliance with a safety standard of approximately 140 check items based on HACCP. Based on the results of this check, high-quality plants recognized to be above a certain level are certified under our NDF-HACCP Certification System. A third party is commissioned with the inspection, and the results are inspected and certified by the Nihon Delica Foods Association (NDF)*2. Moreover, Seven-Eleven Japan (SEJ) is conducting audits to maintain the level of quality management even after the acquisition of certification.
SEJ also holds study sessions on food allergies for daily food processing plants to deepen understanding of allergy onset mechanisms and symptoms and to promote the creation of food allergy management systems.
*1

HACCP: A process management system that analyzes hazards at each step of production, from ingredient acceptance through to product finalization, and provides continuous monitoring and recording of critically important hazard prevention processes.
*2

Nihon Delica Foods Association (NDF): The NDF was formed in 1979 to improve hygiene quality management levels at daily food manufacturing facilities and to eliminate region-based quality differences.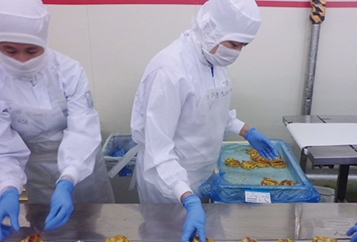 Acquisition of JGAP Certification
For our private brands Fruits and Vegetables with Traceability at Ito-Yokado, we are working to acquire the Japan Good Agricultural Practice (JGAP) certification, an agricultural production process management technique, in order to further improve the level of our quality management.
JGAP sets standards that should be implemented in day-to-day agricultural management to improve safety and protect the environment. Certification has been acquired for 29 locations as of February 28, 2018, and efforts will be made for further certification going forward.
Acquisition of ISO 22000 Certification
York-Benimaru Co., Ltd. acquired certification under ISO 22000, an international food safety management system, at its Otsuki Store in Koriyama City, Fukushima Prefecture.
Going forward, York-Benimaru will use the experience of acquiring ISO 22000 certification to introduce HACCP systems at all stores while training store employees. The company will also work to provide greater safety and confidence to customers regarding food products and enhance product quality in all stages from procurement to sale.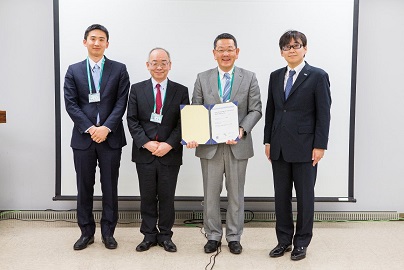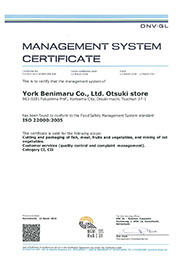 Hygiene Management Based on ISO 9001
At Seven & i Food Systems, the QC Office that serves as the hygiene management division has acquired the ISO 9001 international standard concerning quality management (application scope consisting of food hygiene management system standards and provision at stores). Utilizing this system, efforts are made to improve hygiene management at stores and educate employees.
In hygiene management, priority is placed on freshness management that is easy to understand and can be performed by anyone. The QC Office conducts checks at stores, and random checks of store hygiene are also conducted by a third-party hygiene inspection organization (wipe inspections). Store employees undergo periodic hygiene management training to raise hygiene management levels.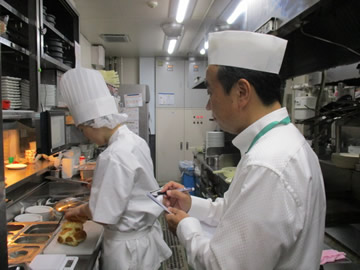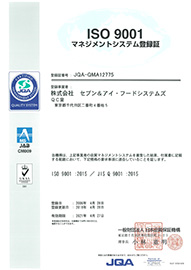 Introduction of Cold Chains
Various vegetables are used in 7-Eleven's original daily foods (rice balls, sandwiches, stuffed bread, salads, delicatessen items, noodles, and so on), and more than 90% of those vegetables are produced in Japan. Freshness is essential for good taste, and for this reason, fresh domestic vegetables are used. We began introducing cold chains (low-temperature distribution networks) in 2005 for low temperature transportation and processing in order to maintain high levels of freshness of domestic produce from harvesting in the field to delivery to stores. Harvested vegetables are consistently maintained at low temperature in delivery vehicles, at sorting centers and processing factories, and until placement on store shelves. In addition, the active use of domestic produce in regions close to where it was harvested reduces energy use in transportation.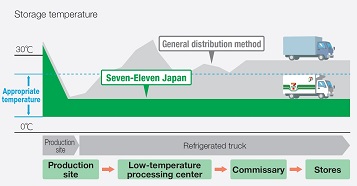 Cold chains (low-temperature distribution networks)
Inspection for Radioactive Substances
In response to an increase in inquiries since the Great East Japan Earthquake, the Seven & i Holdings Group voluntarily conducts inspections to complement the monitoring of radioactive materials that was carried out by the government, and we have posted details on our website.
The Radioactivity Project was established as an internal organization at YB to enable customers to shop with confidence by complementing the monitoring on radioactive substances implemented by the government. We install equipment for measuring radioactive substances at key points within the area where we have established stores, and an internal organization conducts regular inspections. The inspection results are announced on the company's website. For the case of our private brand Three-Star Fruit and Vegetables, we endeavor to sell products that meet the criteria by having buyers visit production sites and conduct soil inspections and independent inspections on samples.
Inspections for radioactive substances are also conducted for IY's Foods with Traceability and the results are published on the company's website.
Initiatives for Material Issue 2