Material Issue 1Providing Social Infrastructure for an Aging Society and Declining Population
Seven & i Holdings will support people for whom shopping is an inconvenience by utilizing the infrastructure it has developed, such as store networks and logistics and information systems, to create new services for shopping support.
IY operates Net Supermarket at 136 stores (as of February 28, 2018) to provide scheduled deliveries of products ordered by customers using PCs or smartphones. Net Supermarket delivers from nearby stores in as little as four hours. The service deals in food and household goods, and pharmaceutical products were added in November 2013. In December 2014, we started offering a service to help parents raising children. With this service, parents who present and register a maternity notebook issued within the last four years can receive deliveries at a fee of only ¥100 (including tax) for four years from the registration date.
In addition, we opened IY Fresh in November 2017. This joint venture with LOHACO enables customers to order daily necessities from LOHACO and products from Ito-Yokado at the same time (the delivery area is Bunyko-ku, and Shinjuku-ku in Tokyo as of February 28, 2018, with phased expansion planned).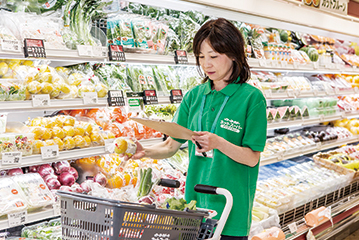 Online Convenience Stores
SEJ offers a service that allows customers to place orders online using a PC or smartphone for some 2,800 products such as rice balls and boxed lunches handled by its stores and have them delivered to their homes or other designated location in as little as two hours. Trials were started at 25 stores in Otaru, Hokkaido and other locations in October 2017, and the service will be expanded to all of Hokkaido by August 2019. The service will then be rolled out in stages to all 20,000 7-Eleven stores in Japan starting in September 2019.

Seven RakuRaku Delivery Provides Home Delivery of Products from Stores
SEJ offers the Seven RakuRaku Delivery service, which provides home delivery for nearly every product sold in its stores. Orders can be placed in advance by telephone or through other means. The service operates a fleet of some 830 "COMS" ultrasmall electric vehicles and SEJ is also moving forward with the introduction of around 2,600 power assisted bicycles (as of February 28, 2018).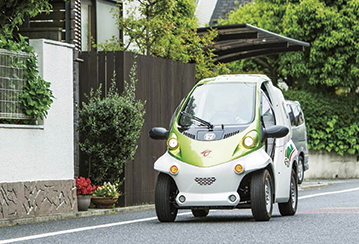 The mobile store services Seven Anshin Delivery and Ito-Yokado Anshin Delivery
SEJ operates the Seven Anshin Delivery mobile store service at 58 stores in 30 prefectures (as of February 28, 2018). This service utilizes proprietarily developed light trucks equipped with store facilities, which go to areas that are inconvenient for daily shopping and where many residents are seniors who have trouble securing means of transportation. Customers are able to purchase a range of foods and beverages, including frozen foods, using this service. Plans call for this service to be expanded further in the future to fulfill the needs of customers.
IY also uses its own specially developed trucks equipped with store facilities to provide the Ito-Yokado Anshin Delivery mobile store service at five stores in Nagano Prefecture, Sapporo City, Tama City, Hanamaki City, and Iwaki City (as of February 28, 2018).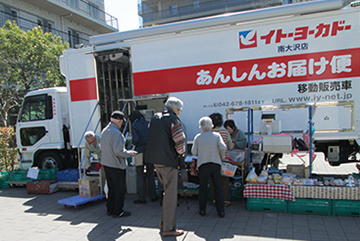 Ito-Yokado Anshin Delivery
The Seven & i Holdings Group is working to realize an Omni7 where customers can order any of the Group's products and choose to pick them up from a local Group store or have them delivered to their homes, as well as return unwanted items. In addition to sales at stores, customers can also order products using their PC or smartphone.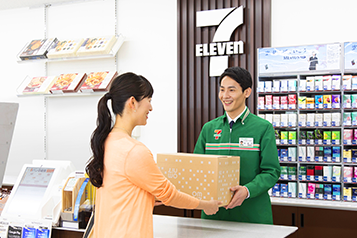 Shopping Support When Delivering Products
Initiatives for Material Issue 1