Material Issue 3 Non-Wasteful Usage of Products, Ingredients and Energy
Reducing Environmental Impact in the Supply Chain
Seven & i Holdings is focusing on reducing its own environmental impact as well as working together with its business partners to reduce environmental impact across the entire supply chain. For example, we are promoting various initiatives such as working together with original product manufacturing plants and delivery service providers and others to save energy at factories and introduce eco-friendly vehicles.
Seven & i Holdings is working to reduce CO2 emissions and evaluate its environmental impact at every stage from the supply chain through to sales and consumption, as stated in its Fundamental Policies Relating to Measures to Contribute to the Prevention of Global Warming. To this end, we have calculated the CO2 emissions ("Scope 3") throughout the entire supply chain following the "Basic Guidelines on Accounting for Greenhouse Gas Emissions throughout the Supply Chain Ver. 2.1." of the Ministry of the Environment. For the fiscal year ended February 28, 2019 we calculated emissions for 10 major Group companies*2. The results showed that Scope 3 emissions accounted for almost 90% of the Group's overall emissions, and of these, around 80% originated in the raw materials procurement process. We will analyze this calculation result and use it to achieve further reductions of CO2 emissions across the entire supply chain.
*1.
"Scope 3": CO2 emissions other than those from the company, emitted from its procurement of raw materials and products, transportation, and product use, together with CO2 emissions from waste disposal processes
*2.
SEJ, IY, Sogo & Seibu, YB, York Mart, Seven & i Food Systems, Seven Bank, Akachan Honpo, THE LOFT, and SHELL GARDEN
| | |
| --- | --- |
| Breakdown of Greenhouse Gas Emissions throughout the Supply Chain in the Fiscal Year Ended February 28, 2019 (Totals for 10 companies) | |
Category
Composition ratio
Scope 1
0.5%
Scope 2
10.8%
Scope 3 Categories 1-15 (total)
88.6%
100.0%
Category 1 (Purchased goods and services)
85.9%
Category 2 (Capital goods)
3.0%
Category 3 (Fuel- and-energy-related activities not included in Scope 1 or 2)
1.0%
Category 4 (Upstream transportation and distribution)
1.4%
Category 5 (Waste generated in operations)
0.3%
Category 6 (Business travel)
0.1%
Category 7 (Employee commuting)
0.2%
Category 8 (Upstream leased assets)
0.01%
Category 9 (Downstream transportation and distribution)
0.2%
Category 10 (Processing of sold products)
-
Category 11 (Use of sold products)
0.4%
Category 12 (End of life treatment of sold products)
6.4%
Category 13 (Downstream leased assets)
1.1%
Category 14 (Franchises)
-
Category 15 (Investments)
-
Total of Scopes 1, 2 and 3
100.0%
Environmental Consideration in Leased Vehicles
At SEJ, Operation Field Consultants, who support franchised store management, use leased vehicles to visit franchised stores. We have been phasing in hybrid vehicles for these leased vehicles. In the fiscal year ending February 28, 2019, we replaced about 1,800 of our leased vehicles with hybrid models.
Reducing CO2 Emissions from Deliveries
Seven & i Holdings is asking its partners who deliver products to stores to cooperate with efforts to introduce eco-friendly vehicles, improve fuel efficiency, and reduce store delivery frequencies. Furthermore, progress is also being made in fitting trucks with drive-data terminals that record driving status. Data collected from the terminals is used to provide driver instruction and eco-driving seminars.
Introduction of Eco-Friendly Vehicles
SEJ is actively introducing eco-friendly hybrid trucks and compressed natural gas (CNG) delivery vehicles and working to reduce CO2 emissions to support the development of a low-carbon society. Of the total of 6,001 delivery vehicles, 983 are eco-friendly vehicles (as of February 28, 2019).
In April 2019, SEJ entered into an agreement with Toyota Motor Corporation regarding store shipments using small fuel cell trucks to save energy and reduce CO2 in logistics. Under the agreement, we have begun a demonstration trial for shipments using hydrogen-powered fuel cell trucks.
Japan's first EV delivery truck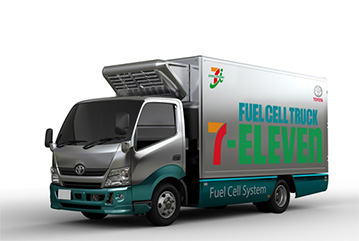 Using Biodiesel in Delivery Vehicles
SEJ is cooperating with a project being conducted by Ehime Prefecture to encourage the use of biodiesel fuel (BDF) produced from used frying oil. Starting March 2018, SEJ has been refining BDF from oil collected from households, fryers in 7-Eleven stores, and production of fried foods at specialized plants in Ehime Prefecture. SEJ projects that approximately 25,000 liters of BDF will be used each month and that emissions from deliveries will be reduced by about 2,590 kg- CO2 per month.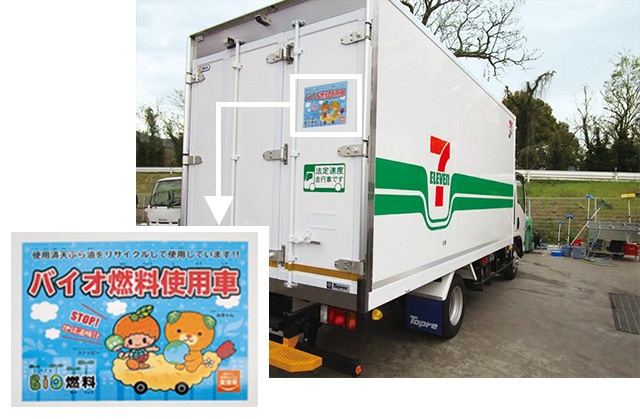 A delivery vehicle the uses biodiesel fuel
Promoting Introduction of Eco-Friendly Tires
SEJ is promoting the introduction of eco-friendly tires with low rolling resistance for delivery vehicles. As of February 28, 2019, we have installed ecofriendly tires on 5,941 delivery vehicles, representing approximately 99% of the total fleet.
Moreover, SEJ has also introduced retread tires to 2,015 vehicles, as of February 28, 2019. These tires are made from tires that have finished their service life, by removing a certain amount of the rubber surface that makes contact with the road and applying new rubber and tread. In this way, they can be re-used as rear tires for delivery vehicles. SEJ will promote the use of retread tires to contribute to resource conservation and waste reduction by reusing them.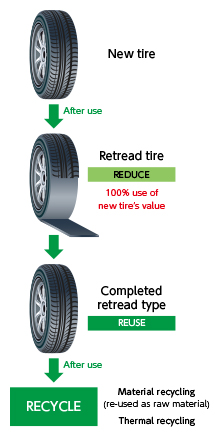 Introduction of Energy-Saving Equipment at Distribution Centers
SEJ is promoting efforts to reduce wasted power usage at its distribution centers by introducing "demand controllers" that monitor the electricity usage of each unit of equipment and apply controls to the equipment in use to ensure that the usage does not exceed a certain range at 79 of 159 distribution centers (as of February 28, 2019).
Promoting Environmental Information Management at Manufacturing Plants
SEJ has its original daily products manufactured by several contract manufacturers. These manufacturers have organized the Nihon Delica Foods Association, which reports on the CO2 emissions, waste emissions, and the food recycle rate associated with plant operations. We work to ascertain the environmental information of our contract manufacturers and hold study seminars in conjunction with the CSR Promotion Committee of the Nihon Delica Foods Association, where we share environmental measures such as energy-saving with each manufacturer in an effort to reduce energy use at their plants.
Business Partner Action Guidelines and CSR Audit
To ensure that it meets its social responsibilities on matters such as human rights, labor issues and the environment, Seven & i Holdings formulated the Business Partner Action Guidelines and asks business partners to understand and implement them. The guidelines cover compliance with environmental laws and regulations, as well as consideration for climate change, biodiversity, and sustainable procurement.
Since the fiscal year ended February 28, 2013, we have had CSR audits conducted by third-party inspections organizations at the manufacturing plants of our private brand suppliers in developing countries. The CSR audits include inspections of environmental aspects, such as compliance with environmental laws and regulations, management of effluent and chemical substances, and promotion of energy-saving and environmental protection activities.
Initiatives for Material Issue 3