Material Issue 3 Non‒Wasteful Usage of Products, Ingredients and Energy
Effective Use of Resources
Depletion of resources such as oil has become an issue. Seven & i Holdings is working to reduce waste emissions associated with store operations, as well as working with customers and business partners to reduce container and packaging materials used for supplying products and to recycle them after they are used by customers.
Reducing Waste Resulting from Products
IY is working to curtail the generation of waste and to promote reuse and recycling with a view to reducing waste disposal. For example, in product deliveries, we recommend the use of reusable containers and the use of hangers for delivery of apparel as a way of cutting down on the use of packaging and cardboard. At stores, we promote understanding of recycling, and store employees are encouraged to rigorously sort waste for recycling purposes.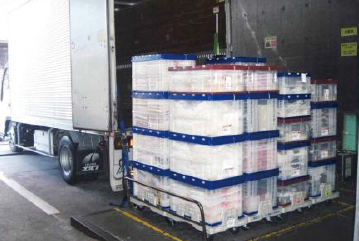 Reusable containers for store deliveries
Reuse of Fixtures and Building Materials from Closed Stores
When 7-Eleven stores are to be rebuilt or closed, rather than disposing of the product shelving, fixtures, chiller cases, and lights, they are reused at other stores. In the fiscal year ended February 28, 2018, 34,822 items of store equipment were recovered and reused. Furthermore, reusable steel frames and recyclable sashes are used in construction of stores to reduce the amount of waste produced during store demolition.
Innovating Sales Methods to Reduce Containers and Packaging
At IY, YB, and York Mart, we have devised sales methods for fresh food and delicatessen items that reduce the amount of containers and packaging used, such as selling by weight or selling individual loose items. In our delicatessen items sales areas, we are increasingly using paper bags rather than plastic containers for selling items such as croquettes and fried chicken. In other areas, some fresh meat sales areas have adopted the method of packing meat for sale in plastic bags without a polystyrene tray.
Reducing the Use of Disposable Plastic Bags
The Seven & i Group promotes the reduced use of disposable plastic bags by asking customers whether they need a bag at the register, displaying posters and POP signs, and holding events to encourage customers to bring their own shopping bags when shopping at stores. Moreover, IY has discontinued the free distribution of plastic bags on the food floors of all its stores and YB has followed suit at around 90% of its stores. SEJ is working to introduce biomass polyethylene shopping bags.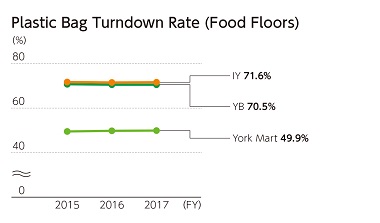 Resource Recovery at Stores
The Seven & i Group is promoting an important initiative to recover and recycle empty containers and other materials from its products. Every Group company cooperates with customers and local governments to recover resources such as bottles, cans, polystyrene, paper cartons, and PET bottles at stores in accordance with local waste disposal sorting rules. Recently, some stores of the Group have also been cooperating with local governments to recover small electrical appliances, which have been drawing attention as "urban mines." For example, IY's Kasai Store hosted the event "Creating Products from an Urban Mine – Medal Project for Everyone" held by the Ministry of the Environment in February 2017. Currently, 14 stores have a permanent recycling box for small home appliances (as of the end of March 2018), and are working to increase awareness among local residents and to collect materials.
Installing Automatic PET Bottle Collection Machines
IY, YB, and York Mart have had automatic PET bottle collection machines installed at stores since 2012. Because PET bottles inserted into the machines undergo an automatic process of foreign-matter removal and volume-reduction (by either compression or crushing), large volumes of bottles for recycling can be sent to recycling plants on each occasion, which reduces the delivery frequency from stores. Moreover, by utilizing Seven & i Holdings logistics routes, more efficient transportation is possible and the volume of CO2 emissions resulting from the operations can be reduced.
SEJ conducted trials of automatic PET bottle collection machines at five stores in Koto-ku, Tokyo starting in December 2015. Later, the program was expanded in stages to 300 stores in Tokyo and Saitama Prefectures starting in December 2017.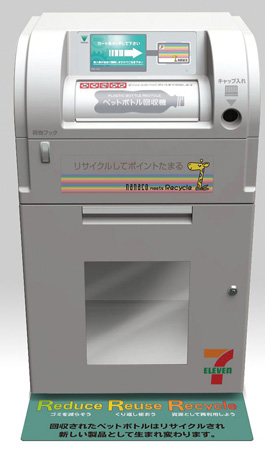 Small-sized PET Bottle Recycling System for convenience stores
Some of the collected PET bottles are made into new PET bottles for the domestic market. This "closed-loop recycling" system of recycling PET bottles into new PET bottles is the first attempt by a major retail chain in Japan to be implemented on such a large scale. As of the end of February 2018, collection machines have been installed in 701 stores across the four companies, and approximately 7,109 tons of PET bottles have been collected.
We are promoting an initiative to recycle material from PET bottles recovered at stores and use it in packaging for Seven Premium private brand products. Moreover, we have printed a note explaining the process from recovery to recycling on the product packaging.
PET Bottle Recycling System Using an Automatic Collection Machine

Initiatives for Material Issue 3