Material Issue 3 Non‒Wasteful Usage of Products, Ingredients and Energy
Initiatives for Realizing a Low-Carbon Society
Seven & i Holdings is taking steps to reduce CO2, the main cause of global warming, and to create a low-carbon society with dramatically reduced CO2 emissions. We are promoting energy saving initiatives and expanding the use of renewable energy in order to achieve a target of reducing CO2 emissions arising in conjunction with store operation by 80% compared to FY2013 by 2050*.
*
The target covers 12 operating companies subject to the Act Concerning the Rational Use of Energy (Energy-Saving Act) (SEJ, IY, Sogo & Seibu, YB, York Mart, Seven & i Food Systems, Akachan Honpo, THE LOFT, SHELL GARDEN, Life Foods, IY Foods, and Barneys Japan).
Reduction Targets for CO2 Emissions
Approximately 90% of the CO2 emissions by each Seven & i Group company are from the use of energy for store operations. For this reason, we set a target of reducing CO2 emissions occurring in conjunction with operation of the stores of the 12 operating companies in Japan by 80% compared to FY2013 by FY2050 so that CO2 emissions do not increase in conjunction with the expansion of business and increases in the number of stores.
Promoting Introduction of Energy-Saving Equipment at Stores
In order to curtail the increase in environmental impact in comparison to increases and expansion of stores and expansion of products and services, each Seven & i Group company is installing energy-saving equipment such as LED illumination and solar panels when opening new stores and refurbishing existing stores. Conserving energy at stores also leads to lower costs for energy use.
For example, at 7-Eleven stores, we are promoting environmentally friendly store creation by converting all types of lighting to LED, including store signage, sales area lighting, and sign poles. In 2014, we introduced new specification LED lighting that can further reduce electricity usage by approximately 50%. In addition, we have made progress with installing solar panels, which are now installed at 8,018 stores (as of February 28, 2019).
At IY as well, to reduce the load on the environment from store operations, LED lighting has been installed at almost all stores, and solar panels have been installed at 13 stores (as of February 28, 2019).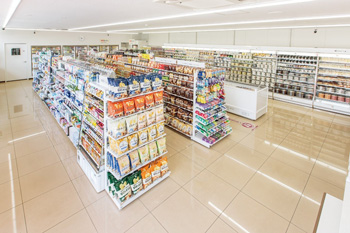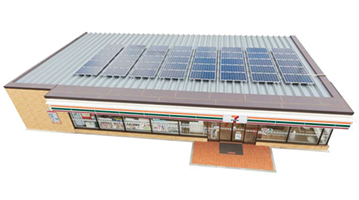 Main investments in environmental equipment—cost and effect (FY2018)*
Environmental investment
(million yen)
Environmental expenses
(million yen)
Projected reduction in expenses
(million yen)
CO2 reduction effect
(Tons)
6,631
4,532
866
23,966
※
Totals for nine companies: SEJ, IY, Sogo & Seibu, YB, York Mart, Seven & i Food Systems, Akachan Honpo, THE LOFT, and SHELL GARDEN
Stores with Hydrogen Stations
SEJ has signed a comprehensive agreement with Iwatani Corporation regarding the installation of hydrogen stations together with convenience stores. In March 2017, the companies opened a store with a hydrogen station in Sendai, Miyagi Prefecture, bringing the total number of hydrogen-station stores to three with the existing stores in Ikegami, Ota-ku, Tokyo Metropolis and Kariya City, Aichi Prefecture.
Looking ahead, we will install pure hydrogen fuel cells at the 7-Eleven stores with hydrogen stations and conduct a trial test on the environmental impact reduction to verify the potential for the use of fuel cells in stores. The project also aims to promote the creation of "close-by, convenient stores" that are closely tied to local communities, while creating sites that can serve as social infrastructure able to provide products, services, and clean energy at a single point.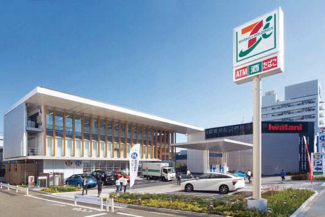 7-Eleven store with hydrogen station at Ota-ku Ikegami 8-chome
People- and Environment-Friendly Next-Generation 7-Eleven Stores
In December 2017, SEJ refurbished the Chiyoda Nibancho 7-Eleven store, incorporating new technologies that will serve as the foundations for optimal next-generation stores.
By utilizing the technologies and facilities of companies representing various fields from Japan and other countries, total electric power externally purchased by the store has been reduced by approximately 28%*1, and work times relating to the subject equipment has been reduced by approximately 5.5 hours per day*2.
In addition, in May 2018 we opened stores in Sagamihara City, Kanagawa Prefecture based on the three themes of reducing the impact on the environment, making it easier to work, and creating a comfortable store environment. We installed equipment that allowed us to cover approx. 46% of our electricity usage with renewable energy and reduce our daily working hours by approx. 7.1 hours.
*1 Converted from the case where the technologies and equipment were installed in a standard store, compared to FY2013.
*2
Total compared to work performed according to existing procedures in an average store environment.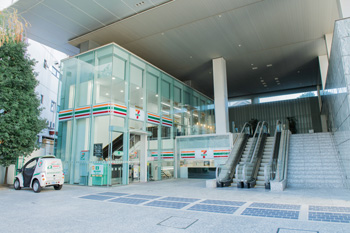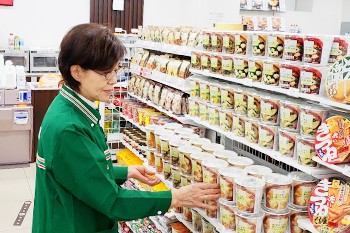 Sliding shelves at the Chiyoda Nibancho 7-Eleven store
1-Hashimotodai, Sagamihara 7-Eleven store
Commencement of Trial Test on 100% Renewable Energy Store Operation
In September 2019, as an initiative based on the Agreement on Cooperation and Collaboration in Promoting SDGs between Seven & i Holdings and Kanagawa Prefecture as well as the Seven & i Group's Environmental Declaration, Seven Eleven Japan started a trial test at 10 7-Eleven stores within Kanagawa Prefecture whereby all electric energy related to store operation is procured using renewable energy.
4R Energy 's original batteries—which uses reused batteries from the Nissan LEAF electric vehicle produced by Nissan Motor —and solar panels with significantly improved electric power generation efficiency made by Kaneka are installed at stores undergoing the trial. Electric power is used efficiently through in-house power generation. In addition, since November 2019, the procurement of electric power beyond what in-house generation is being supplied by SMART TECH based on post-FIT *1, allowing an actual renewable energy rate of 100%*2 when combined with in-house power generation.
In addition to initiatives undertaken so far, such as people- and environment-friendly stores, Seven & i aims to significantly reduce CO2 emission through this initiative.
FIT is the abbreviation for feed-in tariff , a scheme for energy buyback at a fixed price. It is an assistance scheme that fixes the buyback price of energy produced. Post-FIT is expected to gradually occur from November 2019 as the scheme ends for solar energy.
Achieve an actual renewable energy rate of 100% by combining the use of electric power generated/stored by stores with that of electric power originating from post-FIT.
Installation of Electric Vehicle Chargers
Seven & i Holdings and NEC Corporation have installed approximately 3,300 chargers for electric vehicles (EVs) and plug-in hybrid vehicles (PHVs) as of February 28, 2019 in parking lots at 47 stores in Japan, including IY, Ario, and Sogo & Seibu department stores to provide a fee-based charging service. Payment for the service is made with a charging card issued by Nippon Charge Service LLC, a joint venture established by four Japanese automakers, as well as credit cards.
This project is the largest scale introduction of EV and PHV chargers ever attempted in Japan. The initiative aims to increase the convenience of the commercial facilities and establish a pattern for using EVs and PHVs of charging them while shopping. It also aims to contribute to the realization of a lowcarbon society by promoting the spread of environment-friendly, next-generation cars.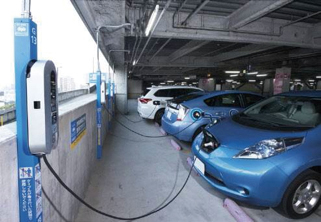 Electric Vehicle Chargers
Managing Climate Change Risks
Seven & i Holdings is affected by various risks related to climate change. These include regulatory risk from tighter regulations in Japan and overseas, physical risk from the occurrence of major disasters, and judgment risk, in which changes in consumer purchasing behavior due to the climate and response to weather fluctuations become the standards for evaluating companies. In particular, the impact from changes in temperature and the occurrence of major natural disasters extends beyond damage to store equipment and distribution networks, restrictions or halts to trading, and sales opportunity loss; it can also affect Group companies' product suppliers and raw material prices. Climate change is therefore a risk factor for all aspects of operations, from product development and production to distribution, store operations, and product lineups. Seven & i Holdings therefore recognizes that quickly building and implementing a business model that can cope with weather and climate change is important for maintaining growth.
Seven & i Holdings, in accordance with its "basic rules for risk management," establishes, maintains, and utilizes comprehensive risk management systems, centered on the Risk Management Committee, in order to properly analyze and evaluate, and appropriately respond to risks associated with each business, with consideration for changes in the management environment and risk factors relevant to the Company and its Group companies. Risks associated with climate change are managed under the systems described below.
Once each year, each Group company identifies risks affecting that company based on an examination of the shared Group risk catalogue presented by the Risk Department, which serves as the administrative office for the Risk Management Committee. Companies quantify risks assessments based on the degree of impact and the likelihood of occurrence of each risk, organize responses countermeasures to each risk in a risk assessment table, and submit the table to the Risk Department. The risk assessment tables include physical risks (large-scale disasters) from restrictions on CO2 emissions and climate change as well as reputational risks from delays in responding to climate change and other such risks.
The Risk Management Committee meets twice annually with the president of Seven & i Holdings in attendance to comprehensively determine the status of Group risks based on the risk assessments and countermeasures submitted by each Group company and monitors implementation of risk management and improvement measures by each company from the perspectives of materiality, urgency of improvements, and so on.
The officer responsible for the Risk Management Committee responds on the status of Group risk management to the Seven & i Holdings Board of Directors at least once annually.
Measures for Adaptation to and Mitigation of Climate Change Risks
Our enduring concern around weather and temperature change is reflected in our daily ordering activities and sales floor formation. In product development and lineups as well, we strive to provide products that meet customers' needs by establishing a hypothesis based on weather changes over several months. At the same time, we will respond carefully to changes in customers' purchasing behavior driven by abnormal weather and temperature changes driven by climate change.
The "Seven Farm" environmental recycling‒oriented agriculture initiative of IY buys the entire quantity of harvested produce, including non‒standard items. This enables us to procure and sell vegetables steadily regardless of market trends. In this way, we are also addressing the aspect of stable product procurement. These Seven Farms are located in 14 places throughout Japan, covering approximately 250 ha in total. (As of February 28, 2019).
In addition, Seven & i Holdings is establishing systems to prepare for disasters associated with sudden weather phenomena, such as the numerous incidents of heavy rain and landslides that have occurred recently in Japan. For example, we have distributed booklets to regular employees summarizing how to respond in an emergency, and we have also been holding regular simulation drills using teleconferencing systems and so forth. Furthermore, Seven & i Holdings is constructing 7VIEW (Seven Visual Information Emergency Web), a system that enables provision, sharing, and joint use of disaster information. The system gathers together information from within the Group and through cooperation with business partners.
Measures to mitigate climate change include various initiatives related to reducing our environmental impact, such as energy conservation and use of renewable energy at stores, along with forest maintenance and related activities throughout Japan.
Initiatives for Material Issue 3