Material Issue 1Providing Social Infrastructure for an Aging Society and Declining Population
Seven & i Holdings is developing and selling cooked meal products based on the concept of individual servings, small volume, and simplicity for those who find meals inconvenient or difficult, to respond to customer demand for saving time and reducing the hassle of housework.
Seven-Meal Delivery Service
SEJ provides the Seven-Meal home delivery service at some 15,000 of its stores nationwide (as of February 28, 2018). The service provides products with particular attention to taste and quality for those who want to eat healthily. Meals are ordered by telephone or online by customers who feel inconvenienced by daily meal preparation. The service starts with a single day's meals, is available 365 days a year, and provides meals the day after an order is placed. Meals can be delivered to the customer's home or other specified location, or picked up at a 7-Eleven store.
Developing Products and Services that Make Meal Preparation Easy
One of the services offered by SEJ as a part of Seven-Meal is "Ingredient Sets," cooking kits for set menus that include a main dish and side dish along with recipes that can be fully prepared in about 20 minutes. The sets, which can be ordered starting from one day for one person, are available in Hokkaido and the Kanto region (as of February 28, 2018). The Ingredient Sets do not contain any preservatives or artificial colors in the main ingredients or condiments, and since the ingredients come pre-cut, cooking times are short. Each meal contains at least 120 g of vegetables, and various menu options that are nutritionally balanced and healthy can be ordered.
In addition, easily-prepared meal kits from Ito-Yokado's IY Fresh service are also sold. These services have been well received by families with two working parents who have little time, as well as single-occupant households who don't want to waste food.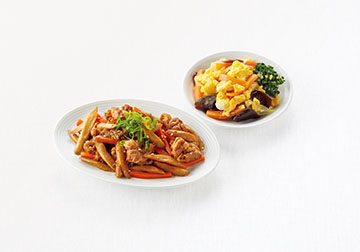 An Ingredient Set from Seven-Meal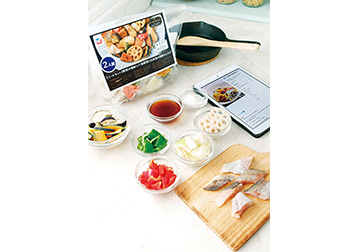 Initiatives for Material Issue 1