Material Issue 1Providing Social Infrastructure for an Aging Society and Declining Population
Providing Services to a Wide Range of Customers
Seven & i Holdings is expanding services and supporting shopping to enable easy use by all customers, including senior citizens, people with disabilities, and tourists from overseas, whose numbers are increasing yearly.
Training Cognitive Impairment Supporters
The Seven & i Group supports the creation of neighborhoods where local residents who suffer from cognitive impairment and their families can live with security. To this end, we are encouraging our employees to attend cognitive impairment supporter training courses.
Each Group company holds training courses, and the cumulative total number of supporters at 26 Group companies (*) had increased to 34,110 as of February 28, 2019. We will continue to strengthen our efforts to develop cognitive impairment supporters.
* 26 Group companies will be targeted in this initiative (accounting for 98% of Group sales in Japan).
| | |
| --- | --- |
| Number of Cognitive Impairment Supporter Training Course Takers | |
FY2015
FY2016
FY2017
FY2018

FY2019

(

Target)

Total
16,554
24,029
29,623
34,110
40,000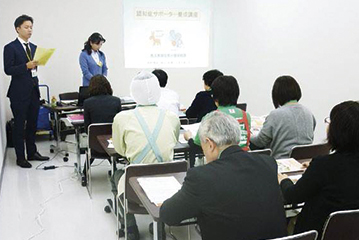 Cognitive impairment supporter training
Marketing Products That Support Senior Lifestyles
Ito-Yokado is developing the Anshin Support Shop at 105 stores, which carries a full lineup of apparel, daily essentials, and foods, including products that support the health and lifestyles of seniors and care products (as of February 28, 2019). Sales are conducted by sales staff with specialized qualifications who are also able to deal with consultations regarding nursing care and welfare issues in general.The company is working to develop products in response to customer opinions and comments and created a pushcart for seniors, known as the "Silver Car," that can easily be pushed over uneven surfaces and has been well received by customers.
In addition, Sogo & Seibu has teamed up with the Caring Design Association to establish a permanent "Living Design Salon" at the Seibu Ikebukuro Store for supporting living and home design for customers aged in their 50s and above. The facility proposes appealing homes that casually incorporate care and support features for the physical changes that occur with age, aiming to enable people to live in their own way even as they grow older.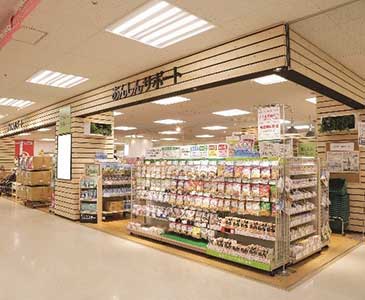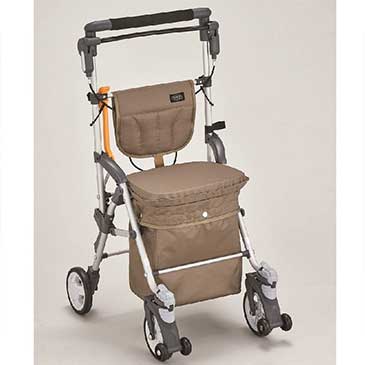 The Silver Car pushcart for seniors that can be pushed over uneven surfaces
Services for Foreign Travelers
The Seven & i Group launched tax-free services at certain stores within every Group company in 2014, after the range of consumption tax-exempt items for foreign visitors was expanded to cover all items.
Moreover, Seven Bank ATMs offer cash withdrawal services on overseas-issued cards, while stores also offer free in-store Wi-Fi services Seven Spot in response to strong demand from overseas travelers.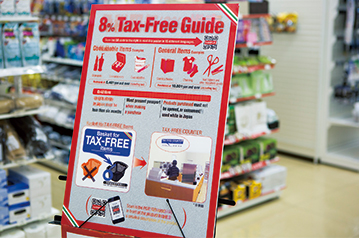 Disseminating Information to Support Everyday Living for Foreigners
Seven Bank provides an overseas remittance app available in nine languages for customers who make use of overseas remittance services. In 2016, we started concluding agreements for promoting multicultural coexistence with local governments in areas with high concentrations of foreign residents. The agreements are mainly intended to disseminate local information through the app. Information about living in these areas, disaster information, and so forth is disseminated in multiple languages through the app to residents, providing support for customers so that they can live safely and conveniently in Japan. As of March 31, 2018, we have concluded agreements with six local governments, and we plan to continue expanding this initiative.
ATMs That Diverse Customers Can Operate Easily
Seven Bank is making daily progress on the ATM functions and services so that all customers can use them with confidence. With the voice guidance service, which is mainly for customers with visual disabilities, users can make a transaction by following voice guidance delivered through an intercom phone installed on the ATM to operate the buttons on the phone. Customers with the cash cards of around 540 affiliated partner financial institutions* can also use this service. This voice guidance system was developed after soliciting feedback from people with visual disabilities and testing its operability.
Furthermore, ATMs in 7-Eleven stores now feature cane and drink holders to make them easy for anyone to use.
*

Banks, credit unions, credit cooperatives, labor banks, JA banks, JF Marine banks, and securities companies that are partners with Seven Bank. This service is not offered for insurance companies or credit card companies, even if they are a partner of Seven Bank.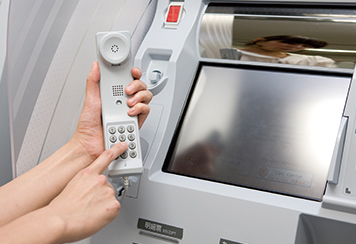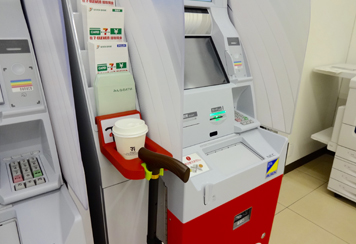 ATM with cane and drink holder installed
Initiatives for Material Issue 1