Reducing Environmental Impact
7-Eleven, Inc. remains focused on doing its part to reduce the company's impact on the environment. In 2017, the company continued to make progress by implementing sustainability measures that focus on energy conservation and efficiency, and other environmental benefits.
【Environmental Goals(restates in 2017)】
(1)Reduce CO2e emissions in stores by 20% by 2027 (2015 baseline)
(2)Shift to eco-friendly packaging for 100% of private brand products by 2027
2027 is SEI's 100th anniversary.
Collaboration with External Organizations
7-Eleven, Inc. continued relationships with two organizations to help guide its environmental initiatives – Conservation International and Retail Industry Leaders Association.
Conservation International (CI), is a nonprofit organization dedicated to building a healthier, more prosperous and more productive planet through science, policy and partnerships. 7‑Eleven is a member of CI's Business and Sustainability Council, a forum for corporate leaders taking positive environmental actions in their businesses, to explore mutually beneficial ways to further reduce its environmental impact.7- Eleven is a member of the Retail Industry Leaders Association's Retail Sustainability Initiative (RSI). RSI is an industrywide educational forum for the largest U.S. retailers. It brings its members together to share leading practices, identify future trends, benchmark with peers, and collaborate on common industry sustainability challenges.
7 Eleven is committed to reducing energy consumption and improving efficiency. In 2016, 7-Eleven, Inc. set a target to reduce the company's energy footprint in stores by 20% by 2025, compared with 2015 levels, measured in MTCO2e per square foot. In 2017, 7-Eleven reduced it C02e emissions by 92,035 MTCO2e year over year from 2016 and by 111,611 MTCO2e from 2015. 7-Eleven has currently reduced MTCO2e by 13.6% MTCO2e per sq ft. from 2015 to 2017. This is equivalent to greenhouse gas emissions from approximately 19,800 passenger vehicles for one year. 7-Eleven reduced its environmental footprint by working with energy partners and through energy conservation and efficiency measures in stores, such as installing LED light fixtures, energy management systems and high efficiency heating, ventilation and air conditioning (HVAC) equipment. Between 2008 and 2017, 7-Eleven reduced electricity consumption in stores by an estimated 24.5%.
LED lights are energy efficient, eliminate use of hazardous materials and comply with local regulations to reduce light pollution. They enhance the customer shopping experience and support store safety. 7-Eleven's LED lighting program is part of the company's energy-efficient design standard and is a significant contributor to the company's CO2 reduction goals. As of December 31, 2017, more than 6,000 stores feature LED lighting. Stores that changed from fluorescent to LED lighting can achieve an estimated annual energy saving effect of 38,756 kWh per store.
Energy Management Systems(EMS)
7-Eleven stores energy management systems (EMS)s enable remote control of heating, ventilation and air conditioning (HVAC) and refrigerant equipment, which yield significant energy consumption. The systems monitor, control and optimize the performance of energy-consuming equipment, and generate real-time data to perform diagnostics and optimization routines to reduce energy consumption and manage costs. In 2017, the company continued to install EMS. Currently, nearly 6,000 stores have EMS installed, enabling stores to achieve an estimated energy savings effect of 16,323 kWh per store, per year.
Shifting Focus to Renewable Energy
In 2017, while maintaining the company's commitment to existing energy conservation projects, 7‑Eleven, Inc. turned its focus toward renewable energy. 7-Eleven signed an agreement with TXU Energy to purchase 100 percent Texas wind energy for all its Texas stores located in competitive energy markets. This wind energy agreement, which impacts 425 stores, starts in 2018, and is expected to reduce 7‑Eleven's carbon footprint by an estimated 6.7 percent while providing significant operating expense savings. With more than 10,000 wind turbines in the state, Texas ranks first in the United States for both installed and under-construction wind capacity, and is home to four of the top 10 largest wind farms in the nation.
External recognition for initiatives addressing environmental issues
Sustainability Choice Award
 TXU Energy recognized 7-Eleven with its 2017 Sustainability Choice Award for its commitment to reduce the company's carbon footprint and choice of renewable energy for the business.
Stars of Energy Efficiency Award
In 2017, the Alliance to Save Energy awarded 7‑Eleven® with the Alliance to Save Energy "Built Environment" award for its commitment to reducing energy consumption and improving efficiency in its stores. The award recognized 7‑Eleven's for successfully decreasing electricity use in store operations by an estimated 21 percent between 2008 and 2015 through installing LED lighting, energy management systems and high-efficiency HVAC units. The Alliance to Save Energy is in its 25th year of recognizing innovators in the energy efficiency field and reward the hard work of those dedicated to saving energy.
Engaging our People in Climate Change
Climate change is a significant global problem that we encourage all our people to learn more about. At our 2017 national conference, SEI provided information on the effects of climate change, and gave pedometers to all attendees for our "Steps for Good" contest. For every 500 steps a participant took, 7‑Eleven donated $1 to help the environment. Participants walked more than 17 million steps – almost 8,600 miles – raising over $34,000 for environmental initiatives. The money was donated to Conservation International (CI), an American nonprofit organization, to support efforts to educate people on ways to improve and stabilize the climate.
Use of Environmentally Friendly Containers and Packaging
7‑Eleven is committed to continually looking for ways to improve product packaging. Many of our solutions are paper-based, derived from sustainable resources and, whenever possible, we work to reduce packaging materials without compromising product quality or safety. We focus on correct sizing and choosing materials that best fit and deliver our products in the most efficient manner. In 2017, SEI continued its commitment to packaging improvements through several packaging reduction initiatives.
7-Eleven evaluated several fresh food packaging designs and determined that the company could reduce materials and still maintain packaging quality and performance for breakfast and meal offerings.
The breakfast sandwich package was switched from quilted hand wrap to a window bag, reducing the material by 25%
The rectangle entrée package was made smaller and a plastic shrink band deleted, reducing the material by 10%.
The large oval entrée package was reduced in size and a plastic shrink band deleted, reducing the material by 33%
A downsized small oval entrée package without a plastic shrink band reduced materials by 37%
| | |
| --- | --- |
| Number of 7‒Eleven, Inc. Stores and Environmental Data Associated with Store Operations | |
2015
2016
2017
Number of stores
8,500
8,707
8,294
GHG emissions*1,2
(1,000t-CO2e)
903
883
791
CO2 emissions*1,2
(1,000 t-CO2)
899
878
787
Electricity consumption*1(GWh)
2,142
2,154
2,053
Water usage*1(1,000 m3)
8,878
9,040
9,793
Shopping bag usage (t)
2,969
2,625
2,780
Calculations are based on estimated electricity consumption for stores where data was not available.

Audited by a third party
7-Eleven® Expands Sustainably Sourced Coffee
To provide high quality, environmentally friendly products, in 2017 7-Eleven, Inc. expanded its sustainably sourced coffee program with three Rainforest Alliance Certified varieties.
Nearly every major coffee-producing region of the world is under stress as changing weather patterns affect coffee production. By working with the Rainforest Alliance, SEI can help foster sustainable farming practices that protect natural resources.
The Rainforest Alliance is an international nonprofit organization that seeks to conserve biodiversity and ensure sustainable livelihoods. Carrying the Rainforest Alliance Certified seal means 7‑Eleven stores' new coffee is sourced from coffee-growers whose farms are required to meet strict standards designed to protect the environment, conserve wildlife and promote the well-being of local communities.
Single-Origin Coffee from Mexico

After introducing its first single-origin Rainforest Alliance Certified coffee, sourced from Nicaragua last year, 7-Eleven introduced its second single-origin sustainably-sourced coffee from Chiapas, Mexico. The Rainforest Alliance Certified coffee is made exclusively from beans harvested in the mountainous highlands of southern Mexico, an area known for its dense rain forests and ancient Mayan ruins.
Permanent Single-Origin Colombian Coffee

 7‑Eleven made a significant product commitment to sustainability with the switch to a new Rainforest Alliance Certified single-origin Colombian coffee. Available year-round, the new 100 percent Columbian coffee replaced the version previously offered and is the company's first permanent coffee variety to switch to sustainable sourcing.
Limited Time, Single-Origin Peruvian Coffee

 For its next limited time, single origin coffee, 7‑Eleven sourced beans from the Cajamarca region of Peru. As with its other single-origin, sustainably sourced coffee, the new coffee from Peru is Rainforest Alliance Certified. The Peruvian coffee is the third limited-time, single-origin coffee offered at 7‑Eleven, the fourth largest coffee retailer in the U.S.

With the addition of the certified single-origin Colombian coffee as a permanent offering and other sustainable limited-time varieties in the future, between one-third and one-half of the 7‑Eleven® coffee lineup will be Rainforest Alliance Certified.

As part of its CSR objectives, SEI will continue to seek out responsibly sourced coffees with less environmental impact. Coffee that carries the Rainforest Alliance 'Certified™ Seal and gives customers a premium cup of coffee and a feel-good way to start the day.
Coexisting with Local Communities (U.S.)
7‒Eleven, Inc. aims to uphold its responsibilities as a good corporate citizen and contribute to local communities where it has opened stores. The Head Office and franchisees work together to promote social contribution activities. The main fields for these activities are support for youth development and military personnel.
In the fiscal year ended December 31, 2017, 7‒Eleven, Inc. provided assistance to over 1,500 organizations totaling more than US$3.40 million in monetary terms through donation drives and provision of supplies implemented by customers, franchisees, employees, and Head Office.
【Social Contribution Goal(restates in 2017)】
Increase corporate giving to 1% net income by 2027
2027 is SEI's 100th anniversary.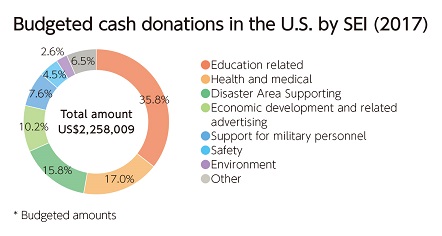 Support for Youth Development
For the 22nd year, 7‑Eleven® worked with law enforcement agencies across the country to distribute free Slurpee® drink coupons through Operation Chill®, 7-Eleven's popular community-service program that recognize kids for positive behavior.
Through Operation Chill, law enforcement officers from participating local police and sheriff's departments "ticket" youngsters caught in the act of doing good with Slurpee beverage coupons. The coupons help officers enhance relationships with the young people of their cities by rewarding them for good deeds, positive activities and acts of kindness.
Examples of rewarded behavior might include helping a person in need, deterring crime or participating in a community service activity. Each coupon can be redeemed for a small Slurpee drink at participating 7‑Eleven stores.
In 2017, 7‑Eleven issued more than 1.3 million Slurpee coupons to approximately 1,000 law enforcement agencies which, in turn, distributed most of those during the summer months and back-to-school season.
Since the program's inception in 1995, more than 19 million Operation Chill coupons have been distributed to hundreds of law enforcement agencies across the country in areas where 7‑Eleven operates stores.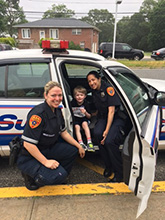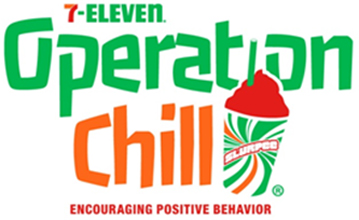 Support for Children's Education
Developing our youth is an important investment to ensure kids have a strong foundation to become responsible and productive citizens. 7-Eleven's Project A-Game program helps kids develop their full potential by funding education, fitness, safety and hunger relief programs that can set them up for success.

Franchisees who identify a need in their community can apply for a Project A-Game grant on behalf of a school, youth sports program or community organization in their store's neighborhood. The grant is jointly funded by Franchisees and the company and helps provide critical funding for program expenses.
In 2017, more than 620 grants were awarded - a community investment of approximately $515,000. Grants helped underwrite a variety of initiatives that help kids stay focused, in school and on track including, positive behavior programs, athletic teams and after school activities. Since the program's inception in 2012, nearly 3,500 grants have been awarded, totaling approximately $2,000,000.

In the United States, 13 million, or 1 in 6 children, face hunger and may not know where they will get their next meal. Getting the energy kids need to learn and grow can be a daily challenge. Fresh produce is in high demand by food banks and is important to good nutrition, especially for children.
In 2017, for the 4th consecutive year, 7-Eleven, Inc. joined the Feeding America network of food banks in a pay-it-forward campaign to buy bananas for food-insecure individuals and families in the U.S. 7-Eleven® customers were offered a quick and easy way to help by purchasing two bananas for $1, that were donated to Feeding America and distributed through its network of local food banks to families in need. For every two bananas donated by a customer, 7-Eleven also contributed an additional dime for the Feeding America network. This program provided an opportunity for 7-Eleven customers to get involved in one of the most pressing issues our country is facing and support hunger-relief efforts at a vital time during the holiday season.

The mission of Feeding America, the nation's leading domestic hunger-relief charity, is to feed America's hungry through a national network of 200-member food banks and engage the country in the fight to solve hunger. Its member food banks supply food to more than 46.5 million Americans each year, including children and seniors. 7-Eleven and its customers donated approximately 725,000 bananas and nearly $35,000 in cash contributions to benefit 22 regional Feeding America member food banks where 7-Eleven operates stores.
Creating fulfilling workplaces
Employees with strong abilities are vital for SEI to achieve its business goals and objectives. SEI understands the value of learning and development to build employee competencies for personal growth and to maximize employee potential.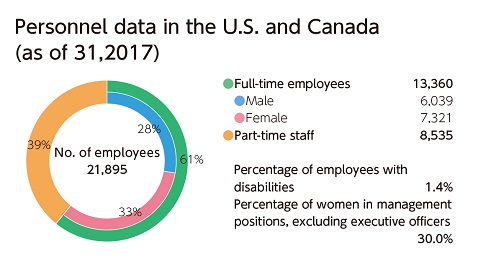 Initiatives in North America