Reducing Environmental Impact
Reducing environmental impact is a priority issue for 7-Eleven, Inc. The company is undertaking various initiatives to increase energy efficiency and use environmentally friendly containers. In 2016, 7-Eleven, Inc. initiated a collaboration with Conservation International (CI), a well-known environmental NPO. 7-Eleven, Inc. has also formulated targets to reduce environmental impacts related to stores and containers.
【Targets】
(1) Reduce CO2 emissions at stores by 20% compared with the 2015 level by 2025
(2) Reduce CO2 emissions from containers and packaging by 20% compared with the 2015 level by 2025
Collaboration with External Organizations
In the course of formulating these targets, 7-Eleven, Inc. has joined forces with CI and begun participating in the Business & Sustainability Council, where corporate leaders select measures to achieve both business performance and a lower environmental impact. Apart from this, the company has joined the Retail Industry Leaders Association, and is participating in the Retail Sustainability Initiative, an educational forum for major retail companies in the U.S. who are members of this association. These forums provide the opportunity for members to get to know cutting-edge initiatives, and share insights into the outlook for the future and the activities of their peer companies in the industry. They also provide a collaborative platform for members and their industry peers to achieve sustainability targets.
7‒Eleven, Inc. has introduced LED lighting and an energy management system (EMS) in stores, along with installing high-performance heating, ventilation, and air conditioning (HVAC) equipment, to reduce electricity consumption at stores. Introducing EMS has enabled the company. to monitor, control, and optimize the performance of HVAC and refrigeration equipment, which significantly contributes to energy consumption. It also enables remote control of the equipment.
Real‒time data obtained from the EMS is analyzed to reduce energy consumption and manage costs. Through these measures, 7-Eleven, Inc. has reduced electricity consumption by approximately 21% over the past 7 years.
In 2016, 7-Eleven, Inc. continued to introduce EMS. Currently, more than 5,900 stores have installed the EMS, and there has been an average annualized reduction in electricity consumption of 16,323 kWh per store. Furthermore, LED lighting has been installed at around 5,980 stores as of December 31, 2016.
Improving Awareness of Climate Change
Climate change is a global issue facing people around the world. In order to increase interest in this issue among its employees and franchisees, 7-Eleven, Inc. presented the impacts of climate change at a nationwide conference held in 2016. In addition, 7-Eleven, Inc. held a campaign in which it handed out pedometers to all conference attendees and pledged to donate $1 to CI for every 500 steps taken per person. A total of 16.5 million steps were recorded through this event, equating to approximately 8,000 miles (approximately 13,000 km). The campaign raised funds of around $33,000. These funds will be put to use in CI's initiatives to communicate the importance of climate change mitigation measures to the general public.
Global Campaign to Fight Climate Change
As a global convenience store chain operator, 7-Eleven has implemented a campaign to mitigate the effects of climate change in 10 countries around the world. The campaign was held mainly around July 11 ("7/11"), in keeping with the "Seven-Eleven" name, and was spearheaded by Seven & i Holdings Co., Ltd. It was implemented by Seven-Eleven Japan Co., Ltd., 7-Eleven, Inc., Seven-Eleven companies in China, and seven companies licensed by 7-Eleven, Inc. to operate Seven-Eleven stores in certain designated areas. During the campaign, each participating company strove to fight climate change by undertaking energy-efficiency initiatives, working to reduce plastic shopping bag usage, advancing collaboration with NGOs, and taking action to stimulate the interest of employees and customers.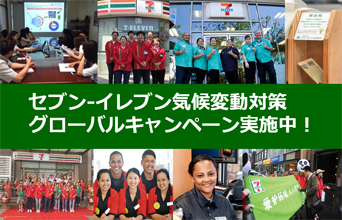 Use of Environmentally Friendly Containers and Packaging
7-Eleven, Inc. is making a concerted effort to use environmentally friendly containers and packaging. Many of its containers are made of paper and other materials with a low environmental impact. 7-Eleven, Inc. also strives to reduce the use of raw materials by selecting the right size and type of materials while ensuring product quality and safety.
Examples of Initiatives in 2016
Recyclable Hot Coffee Cups
7-Eleven, Inc. has introduced a new coffee cup that keeps coffee hot without having to apply a cup sleeve (a paperboard sleeve that fits around a cup to insulate the drinker's hands from hot coffee). Unlike conventional disposable coffee cups, this new cup can be recycled because it is made of polypropylene plastic.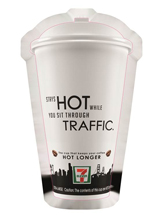 Paper Bags Made of 100% Recycled Materials
7-Eleven, Inc. has developed new paper shopping bags for stores in municipalities that prohibit merchants from giving customers plastic shopping bags. The new paper shopping bags are made of 100% recycled materials and can be recycled after use. The words "Reduce Reuse Recycle" are printed on the side of the bags to help foster environmental awareness among customers.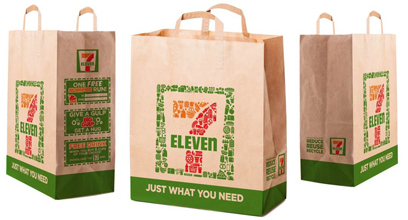 PET Bottles Made of Recycled Materials
7-Eleven, Inc. has begun sales of PURE-brand mineral water under its 7-Select line of private-brand products. Recycled plastic accounts for 15% of the materials used to make the PET bottles for this product. The PET bottles can also be recycled after use.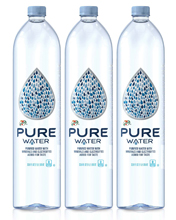 | | |
| --- | --- |
| Number of 7‒Eleven, Inc. Stores and Environmental Data Associated with Store Operations | |
2014
2015
2016
2017
Target
Number of stores
8,297
8,500
8,707
9,895
Electricity consumption*1(GWh)
2,161
2,142
2,154
2,527
CO2 emissions*1,2
(1,000 t-CO2)
1,040
948
922
1,080
Water usage*1
(1,000 m3)
9,084
8,878
9,040
12,415
Shopping bag usage (t)
3,231
2,969
2,625
2,980
*1.
Calculations are based on estimated electricity consumption for stores where data was not available.
*2.
Audited by a third party
Sales of Sustainably Sourced Coffee
In 2016. 7-Eleven Inc. launched an exclusive Rainforest Alliance Certified Nicaragua single-origin coffee as a high-quality, environmentally friendly product. The Rain Forest Alliance is an international nonprofit organization that seeks to conserve biodiversity and ensure sustainable livelihoods. Carrying the Rainforest Alliance Certified seal means 7 Eleven stores' coffee is sourced from coffee-growers whose farms are required to meet strict standards designed to protect the environment, conserve wildlife and promote the well-being of local communities. 7-Eleven Inc. will continue to promote sustainably sourced coffee.
Coexisting with Local Communities (U.S.)
7‒Eleven, Inc. aims to uphold its responsibilities as a good corporate citizen and contribute to local communities where it has opened stores. The Head Office and franchisees work together to promote social contribution activities. The main fields for these activities are support for youth development and military personnel.
In the fiscal year ended December 31, 2016, 7‒Eleven, Inc. provided assistance to over 2,000 organizations totaling more than US$3.97 million in monetary terms through donation drives and provision of supplies implemented by customers, franchisees, employees, and Head Office. Moreover, 7-Eleven Inc. has set the following targets to strengthen its support for communities:
【Targets】
Aim to allocate approximately 1% of net income to social contribution activities every year, from 2017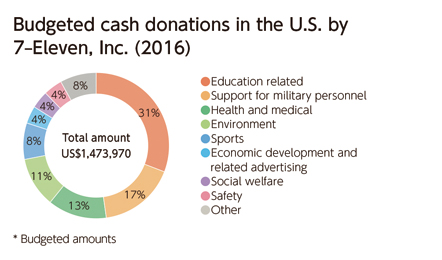 Support for Youth Development
When called to stop by the police, young people may refuse to respond to questions or try to run away, making the problem worse. Building trust between young people and the police helps to reduce crime by minors and improves their future and that of the community.
To improve the relationship between the police and youth, 7‒Eleven, Inc. has been implementing "Operation Chill," which involves distributing coupons for free Slurpee carbonated drinks to the police. The police use the vouchers to "ticket" youngsters who are caught doing good deeds. In 2016, 7‒Eleven, Inc. provided over 1.28 million coupons to approximately 940 police organizations. Over 15 million coupons have been distributed since the program started in 1995. The logo for this program was redesigned in 2016 to mark the 21st year of these activities. The phrase "Encouraging Positive Behavior" is printed on the logo to communicate the purpose of this campaign.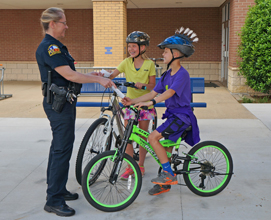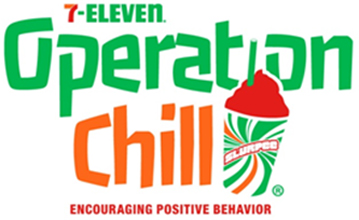 Support for Children's Education
Based on an appreciation of the importance of education, 7‒Eleven, Inc. implements "Project A‒Game" as a joint support program by franchisees and Head Office to enable children to experience worthwhile activities.
Store owners apply to Head Office for a grant to support local schools or youth sports organizations that are in need. Grants are jointly funded by local franchisees and the Head Office, and are used to provide financial assistance to enable children to continue enjoying school. This system enables franchisees to provide financial assistance to their local neighborhoods.
In the fiscal year ended December 31, 2016, funds of around US$650,000 were donated to 1,100 recipients, and were used to support sports teams and extra‒curricular activities. Since the start of the project in 2012, funds of around US$1,575,000 have been donated to 2,850 recipients.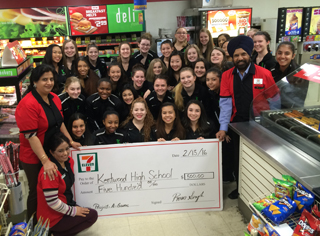 Support for Pediatric Cancer Hospital
7-Eleven, Inc. has implemented a campaign to enhance public awareness and support for St. Jude Children's Research Hospital, a research and treatment center for pediatric cancer.
This hospital conducts research into treatment for children suffering from pediatric cancer and other serious diseases. The hospital pays for treatment, travel, housing and food expenses without billing families so that the families can focus solely on the recovery of their children. 7-Eleven, Inc. supports the policy of St. Jude Children's Research Hospital and donated 11 cents for every large-size Slurpee, a frozen beverage, sold from November 9, 2016 to January 3 the following year, in order to save children fighting pediatric cancer. Through this campaign, 7-Eleven, Inc. donated US$200,000 to St. Jude's.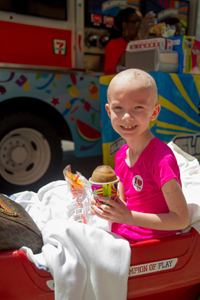 Poverty is a serious social problem in the U.S. According to the U.S. Department of Agriculture, 42.2 million Americans struggle to put enough food on the table to meet their daily needs. Among the underfed are 6.4 million children. Given that a well-balanced diet of nutritious fresh foods is particularly important for children and their health, there is strong demand for fresh foods at food bank organizations.
In 2016, 7-Eleven, Inc. implemented a campaign based on customer participation to support Feeding America, a prominent food bank organization. Under this campaign, for every $1 donated by a customer, 7-Eleven, Inc. would provide two bananas and a donation of 10 cents to Feeding America.
Moreover, 7-Eleven, Inc. handed donation acceptance cards to customers taking part in the program, and displayed the signed cards in stores during the campaign period. During the campaign period from November 29 to December 31, 7-Eleven, Inc. collected donations of around 985,000 bananas and approximately $49,000 from customers. This campaign is designed to provide relief from hunger during the year-end holidays, an important time for Americans. The bananas and funds were donated to 22 member organizations of Feeding America in areas served by 7-Eleven stores.

7‒Eleven, Inc. is making a concerted effort to develop female leaders within the company.
Over half of 7‒Eleven, Inc.'s personnel are women, and boosting the capabilities of female employees is also essential to ensure competitiveness from the customer's perspective. In the fiscal year ended December 31, 2016, the company continued to develop female leaders through participation in two well‒known organizations. As a result, three female executives of 7-Eleven, Inc. received awards in their respective fields from Convenience Store News, a publisher of information about the convenience retail industry.
Network of Executive Women (NEW)
The mission of NEW is to help advance women in the consumer products manufacturing and retail industry through education, leadership and business skills development. Fifty of 7‒Eleven, Inc.'s women in management positions participate in NEW programs to help them grow as professionals by, for example, networking with leaders working at industry peers. They are also able to access a host of benefits and resources, including sharing best practices, developing their leadership skills, and participating for free in learning programs.
The Women's Foodservice Forum (WFF)
WFF is the foodservice industry's premier leadership development organization advancing women in the industry. Approximately 20 7‒Eleven, Inc. female leaders participate in regional conferences, where they are able to gain access to highly effective and educational leadership programs and events, as well as networking opportunities. These opportunities enable them to gain the competence and strategic connections needed to step up their careers in the foodservice industry.
| | |
| --- | --- |
| Awards conferred by Convenience Store News in 2016 | |
Category
Award recipients
Reasons for award
Top Women in Convenience Award 2016, Women of the Year Category
Nancy Smith, SVP, Merchandising,
Fresh Food & Beverages
For her role in leading her company to success and her impact on the convenience store industry as a whole
Top Women in Convenience Award 2016, Senior-Level Leader Category
Ena Williams,
SVP,
International
For her strategic execution capabilities and proactive business transformation skills
Convenience Foodservice Executives of the Year Award
Kelly Buckley,
Vice President,
Fresh Food Innovation
For her advancement of 7-Eleven, Inc.'s overall fresh food strategy and development of innovative products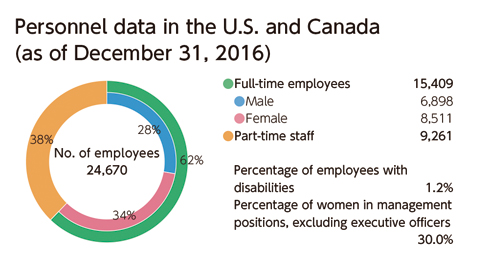 Expanding Healthier Food Options
In response to growing health consciousness among consumers, 7-Eleven, Inc. has been devoting effort to developing a range of well-balanced and nutritious food and beverage products that can be enjoyed while on the go.
 7-Eleven, Inc. offers daily products such as delicatessen items, salads with low-fat dressings, sandwiches, yoghurt parfaits with fruit and granola, fruits, and boiled eggs.
Snacking, or the dietary practice of eating simple foods in one's spare time between meals, has recently been catching on in the U.S. With this in mind, 7‒Eleven, Inc. has expanded its food offerings with the introduction of 7‒Select GO! Smart. These products have been developed for customers looking for better‒for‒you options while on the go and include great‒tasting snacks and beverages, such as sprouted chips and coconut water. Products are formulated to deliver health benefits to customers and have prominent callouts on the packaging to aid customers in selecting the product that best fits their lifestyle.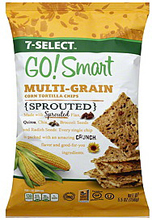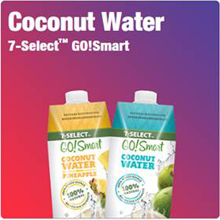 Initiatives in North America