In March 2016, Seven-Eleven Hawaii (SEH) added "Our Promise" to its set of company values in order to support its direction as a chain of "close-by, convenient stores," to shape its corporate culture, and to further solidify its values. "Our Promise" is comprised of the following three specific values.
Bring a smile to the faces of customers, vendor partners, and employees
Work together as a team to achieve goals
Strive for greater heights
To promote "Our Promise," the company started a program for recognizing exceptional employees. First, all employees are encouraged to nominate people they think are practicing the three values. Then, the selected people are given a badge and a bonus and are introduced in the company newsletter and on an employee-only Facebook page.
These values define SEH as a business for the community, for partners and for employees. The practice of Our Promise then becomes the cornerstone for the words and actions of employees.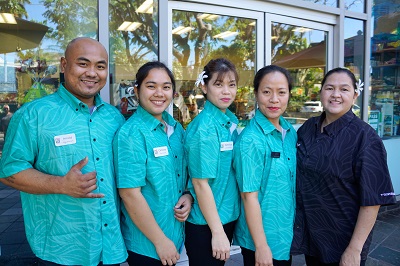 Thriving with Local Communities
As a good corporate citizen, SEH supports activities and NPOs involved with children, education, public welfare, and health.
In 2017, the equivalent of approximately $39,000 in support was provided to 44 organizations through fundraising, material support, and volunteer activities on the part of SEH customers, stores, employees, and the company.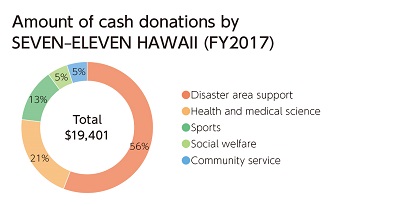 Supporting NPOs through Storefront Donations
SEH has been collecting storefront donations to support various NPOs that contribute to the local community since it began operations. Organizations that wish to receive donations submit an application stating their mission and why they want to participate in the organization, and each month, one organization is selected as the recipient. The selected organizations are active in fields such as health, safety, and education, and the donated funds are used throughout Hawaii. In the fiscal year ended February 28, 2018, approximately $80,000 were donated.
Social Contribution through the Sale of Coupon Books
Since 2001, SEH has sold Lima Kokua (Helping Hands) Coupon Books to schools, sports teams, and other non-profit organizations. The organizations that purchase the coupon books, which can be used in all SEH stores, earn a profit by selling them to third parties.
SEH supports the activities of these NPOs through the sale of the coupon books.
In the fiscal year ended February 28, 2018, 33 organizations used the system. Many of these were repeat orders, showing that the books have been popular.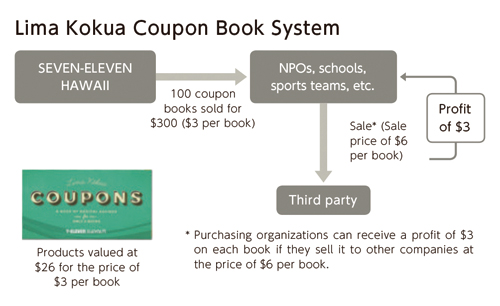 Supporting Solutions to Social Issues through Event Sponsorship
SEH undertakes social and cultural contribution programs to support solutions to issues concerning Hawaii's children, health, environment, and other topics. One aspect of these programs we support for the Hawaii Ag and Culinary Alliance. The mission of the Alliance is to support activities relating to culinary arts, agriculture, environmental stewardship, culture, and education in Hawaii. Its programs are exempt from taxation under US tax laws*.
In August 2017, a total of $50,000 collected through storefront donations and a charity golf tournament was donated. The annual charity golf tournament is held in collaboration with business partners to collect funds used to support local NPOs. The 39th tournament was held at the Mid-Pacific Country Club on August 7, 2017.
Support was also provided to the Hawaii Food & Wine Festival (HFWF), one of the Alliance's events, held on November 3. Leading chefs and winemakers gather for the HFWF to present creative and artistic cuisine using local ingredients. During this program culinary school students work with leading chefs, making it a valuable experience. The collected funds are donated to NPOs that support local traditional cuisine, culture, and agriculture. Since 2011, a total of $1.7 million has been donated.
* Under Section 501(c) of the United States Internal Revenue Code (USC 26), organizations whose purpose is religious, educational, charitable, scientific, literary, testing for public safety, to foster amateur sports competition, or prevention of cruelty to children or animals, are exempt from taxation.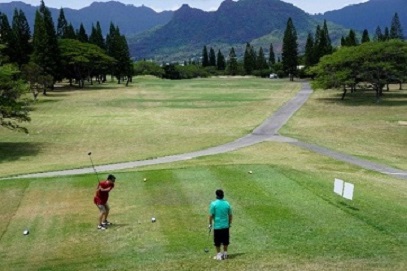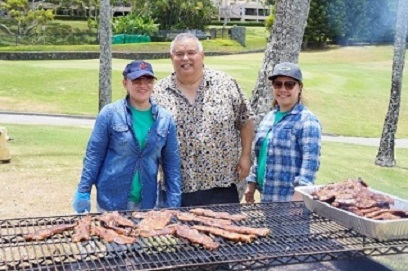 The charity golf tournament
Expansion of Health-Conscious Foods
It is said that a majority of adults in Hawaii suffer from obesity or chronic disease, making this a serious issue. One of the causes is an unbalanced diet. To curtail increases in obesity and chronic disease, the Hawaii Department of Health launched the Choose Healthy Now (CHN) program to improve nutrition through education.
SEH, which seeks to be a lifestyle brand, believes that it can play an important role contributing to the improvement of health in local communities and supports the CHN program. SEH and local health authorities selected health-conscious products from among its lineup and placed the Choose Healthy Now logo on them, to make the products easier to identify. By undertaking CHN activities at the 64 stores that SEH operates throughout the state, the company is producing a positive impact by making it easier for customers to make healthier choices and lead more enriching lifestyles. Hawaii First Lady Dawn Amano-Ige, wife of the governor, submitted recipes, and SEH developed sandwiches recommended by the Department of Health.
In preparation for participation in these programs, SEH began displaying the CHN logo in stores on September 4, 2017 and held a press conference for the media on September 8. To cooperate with educational activities, SEH representatives appeared on a television program about local lifestyles and discussed how various health-conscious products can be selected at SEH stores.
These programs hold particular social significance not just for SEH, but also for customers, through the provision of healthier lifestyles, and we will continue to focus efforts in these areas.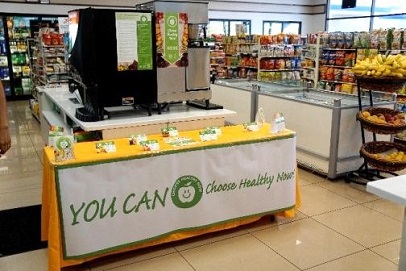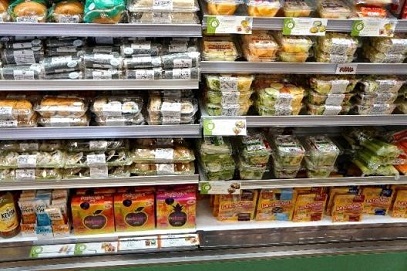 Display of the YOU CAN Choose Healthy Now logo in a store
Reducing Environmental Impact
SEH has been working on an initiative named the Energy Smart Program, to reduce energy consumption, since 2012. Under the program, SEH has carried out many kinds of initiatives. By 2015, we had established a standard temperature to be set on all store air conditioning systems, which consume the largest amount of energy, along with installing inverters in vaults and freezers and changing vault lighting to LED illumination. To raise energy conservation awareness among employees, the company has provided them with environmental education.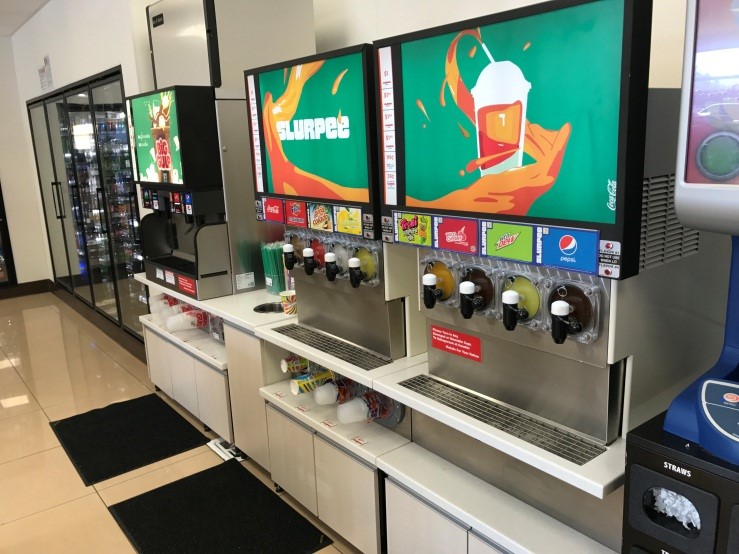 | | |
| --- | --- |
| Number of SEH Stores and Environmental Data Associated with Store Operations | |
| | 2013 | 2014 | 2015 | 2016 | 2017 |
| --- | --- | --- | --- | --- | --- |
| Number of stores | 59 | 60 | 63 | 63 | 65 |
| Electricity consumption (MWh) | 17,848 | 18,246 | 18,399 | 18,097 | 18,334 |
| Water consumption (thousand m3) | 48 | 44 | 46 | 46 | 47 |
Initiatives in North America