In March 2016, SEVEN-ELEVEN HAWAII added "Our Promise" to its set of company values in order to support its direction as a chain of "close-by, convenient stores," to shape its corporate culture, and to further solidify its values. "Our Promise" is comprised of the following three specific values.
Bring a smile to the faces of customers, vendor partners, and employees
Work together as a team to achieve goals
Strive for greater heights
To promote "Our Promise," the company started a program for recognizing exceptional employees. All employees are encouraged to nominate people they think are practicing the three values. The selected people are given a badge and a bonus and are introduced in the company newsletter and on its website.
These values define SEVEN-ELEVEN HAWAII as a business for the community, for partners and for employees. The practice of Our Promise then becomes the cornerstone for the words and actions of employees.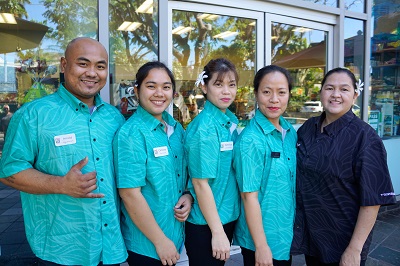 Thriving with Local Communities
As a good corporate citizen, SEVEN‒ELEVEN HAWAII supports activities and NPOs involved with children, education, public welfare and health. In 2016, an equivalent of approximately $40,000 in support was carried out for 58 organizations through fundraising, donations of goods, and volunteer activities on the part of SEVEN‒ELEVEN HAWAII customers, member stores, employees and the company.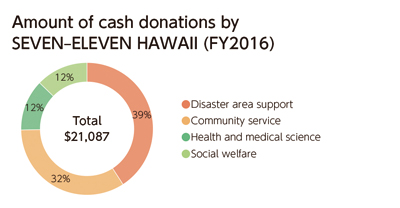 Social Contribution through the Sale of Coupon Books
Since 2001, SEVEN‒ELEVEN HAWAII has sold Lima Kokua (Helping Hands) Coupon Books to schools, sports teams, and other non‒profit organizations. The organizations that purchased these coupon books, which can be used in all Hawaii stores, earn a profit by selling them to third parties. Over 65 organizations have used the system each year, and SEVEN‒ELEVEN HAWAII has supported the activities of these organizations through the sale of the coupon books. In 2016, 35 organizations used the system. Many of these were repeat orders, showing that the books have been popular.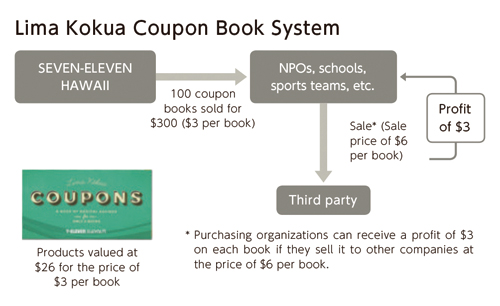 Support for Sports Events
SEVEN-ELEVEN HAWAII held an event for children during the 2016 Christmas season. The company had children ages 5 to 12 write letters to Santa Claus telling him what they wanted and the letters were collected at all stores from November 28 to December 9. The letters collected at the stores were compiled at the headquarters, and after a selection committee reviewed all the letters, it selected those that were exemplary from the standpoint of virtue and morality. Thirty-three children were then presented with the presents they had wanted.
Three of the children appeared on a Hawaiian television program that features local people and events, where their letters were introduced along with their parents. The program host, presented the children with their Christmas presents on behalf of Santa and SEVEN-ELEVEN HAWAII. Of the three, there was a young philanthropist, a 10-year-old boy who had asked for a $1,000 donation to the Laulima Giving Program, a local charity that helps families.
The event brought great joy to the winning children and their families, and especially to underprivileged families. SEVEN-ELEVEN HAWAII plans to hold the event next year as well.

Safety Measures for Local Communities
SEVEN-ELEVEN HAWAII is involved with helping the Honolulu Fire Department distribute safety guidebooks that it issues each year. The guidebooks contain information on fire safety measures for the home and are distributed to elementary school students. In 2016, the guidebooks were passed out at schools from October 9 to October 15, which is Fire Prevention Week. Teachers, parents and the children look at the guidebooks together and are encouraged to sign the last page. As a program incentive, coupons from local companies are included inside. SEVEN-ELEVEN HAWAII provided a buy one, get one free Slurpee ticket. On average, 500 of the tickets are used each month. SEVEN-ELEVEN HAWAII intends to continue helping to save lives through this activity.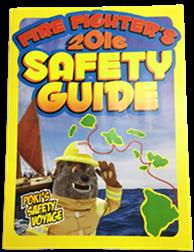 Reducing Environmental Impact
SEVEN‒ELEVEN HAWAII has been working on an initiative labeled the Energy Smart Program to reduce energy consumption since 2012. Under the program, SEVEN‒ELEVEN HAWAII has carried out many kinds of initiatives. By 2015, we had established a standard temperature to be set on all store air conditioning systems, which consume the largest amount of energy, along with installing energy‒efficient fan motors in the vaults and freezers and changing vault lighting to LED. To raise energy conservation awareness among employees, the company has provided them with environmental education.
As an extension of the Energy Smart Program, in 2016 all seven stores in the Hawaiian capital of Hilo worked to reduce energy consumption. At the stores, excess heat from condensers had been lowering air conditioning efficiency and putting an additional load on refrigerated display cases, Slurpee machines and other equipment. This caused unnecessary electricity consumption and necessitated repeated repairs to the equipment. To solve the problem, remote condensers were installed on the store rooftops. This prevented the heat from entering the stores and allowed for a pleasant temperature inside. Monthly electricity consumption at the seven stores was reduced on average by 592 KWh compared to the previous year (11% reduction).
As a result of this initiative, electricity consumption at all stores in 2016 was reduced by 2% compared to the previous year.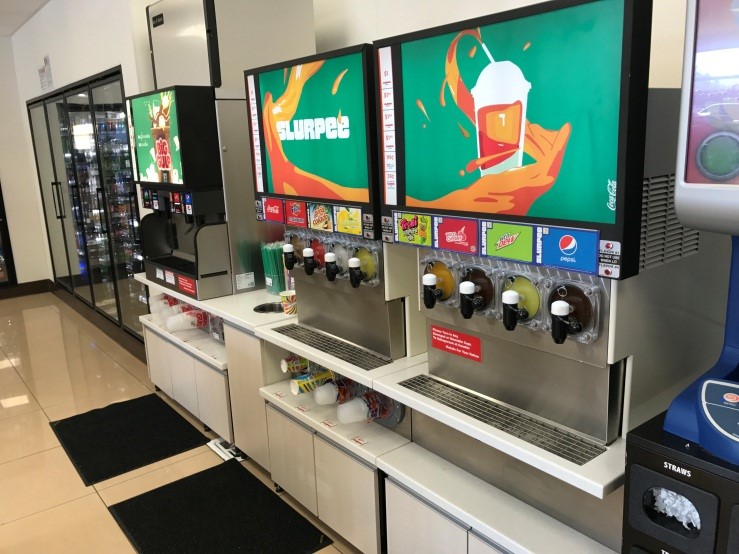 | | |
| --- | --- |
| Number of SEVEN-ELEVEN HAWAII Stores and Environmental Data Associated with Store Operations | |
| | 2012 | 2013 | 2014 | 2015 | 2016 |
| --- | --- | --- | --- | --- | --- |
| Number of stores | 59 | 59 | 60 | 63 | 63 |
| Electricity consumption (MWh) | 18,079 | 17,848 | 18,246 | 18,399 | 18,097 |
| Water consumption(thousand m3) | - | 48 | 44 | 46 | 46 |
Initiatives in North America