Chinese Convenience Store Business
Providing Safe and Reliable Products
In China, where concerns over food safety and integrity have been mounting, SEVEN-ELEVEN (BEIJING), SEVEN-ELEVEN (TIANJIN) and SEVEN-ELEVEN (CHENGDU) work to provide safe and reliable products by leveraging quality management and product development capacities cultivated in Japan.
Quality Management Measures at Plants
For the Group's private-brand products in China, strict standards are applied in selecting ingredients, and processing plants that maintain high quality levels are selected through a screening process based on whether they have experience exporting to Japan and other criteria.
We have strengthened quality management at dedicated plants producing only the Group's products by incorporating international food safety management systems and measures implemented at plants in Japan.
Beijing Wang-Yang Foods and JEANAVICE factories, which are dedicated plants of SEVEN-ELEVEN (BEIJING) and SEVEN-ELEVEN (TIANJIN), obtained the "SC" food production license for chilled foods in February 2012, earlier than peer companies in the industry. "SC" is a regulatory requirement related to food production in China. Food manufacturers must acquire the "SC" license by switching from the existing "QS" food quality and safety license by October 2018.
At the JEANAVICE Factory, Chinese plant managers and quality control managers attend the HACCP *1 inspections for daily food processing plants that are implemented annually by Seven-Eleven Japan. Moreover, the manager of the quality assurance department has obtained qualification as an internal inspector for FSSC 2200 *2 . At the Beijing Wang-Yang Foods Factory, measures are being implemented to obtain the HACCP 20002 qualification within 2017, with the aim of further enhancing the level of quality control.
*1
HACCP (Hazard Analysis and Critical Control Point) food sanitation management method
*2
A food safety management system certification
In response to an increase in health-conscious customers, the three companies are working to develop products containing abundant vegetables and boxed lunches featuring many different ingredients. In 2016, SEVEN-ELEVEN (BEIJING) renewed its boxed lunches based on the concept of "Abundant vegetables, low calories and healthy." Concurrently, the company started displaying the calorie content of boxed lunches. All three companies sell entrée items prepared in stores. In 2016, SEVEN-ELEVEN (TIANJIN) and SEVEN-ELEVEN (CHENGDU) switched containers for entrée items prepared in stores from those that can hold two items to containers that can hold three items. SEVEN-ELEVEN (BEIJING) provides customers with the option of choosing between containers that can hold two items and those that can hold three items.
Trans-fatty acids, which are said to increase the risk of heart disease, were successfully reduced to zero in the room-temperature bread products of SEVEN-ELEVEN (BEIJING) and SEVEN-ELEVEN (TIANJIN).
Improving Customer Satisfaction
The three companies are working to collect customer feedback in order to improve products and services from the standpoint of customers. Feedback obtained from customers is communicated to departments and stores on a daily basis. In addition, stores conduct customer surveys annually in order to grasp changes in customer needs and reflect them in products. In 2016, SEVEN-ELEVEN (TIANJIN) received customer survey responses from 624 people, while SEVEN-ELEVEN (CHENGDU) received responses from 2,225 people. This customer feedback was put to good use in developing and improving products.
In order to further improve the customer service provided by employees, the three companies conduct training and have also established award programs to recognize employees who have done outstanding work. We will strive to enhance motivation by presenting awards to recipients at meetings and other such forums in conjunction with striving to increase examples of best practices for employees to follow by making the award-winning activities widely known.

At a presentation of Store Owner Awards by SEVEN-ELEVEN (BEIJING)
Thriving with Local Communities
Each company conducts social contribution activities as members of their local communities.
Support for Children by SEVEN-ELEVEN (CHENGDU)
Since 2013, SEVEN-ELEVEN (CHENGDU) has provided support for Benevolence House, a home for children with mental disabilities. In 2016, five employees visited the facility to participate in a Christmas event and a birthday party. The employees provided entertainment, along with delivering presents to the residents and a donation of air purifiers to the facility from the company. In recognition of its continuous support activities for Benevolence House, SEVEN-ELEVEN (CHENGDU) was presented with a Certificate of Appreciation from Benevolence House in March 2016.
In addition to support for Benevolence House, SEVEN-ELEVEN (CHENGDU) also carried out other support measures for children. In order to assist children in impoverished farming areas, the company conducted a campaign to collect clothing and books from Head Office employees from December 2015 to January 2016. The company collected 52 articles of clothing and 36 books, donating them to children living in Nata Township, Baiyü County in Garzê Tibetan Autonomous Prefecture.
In recognition of the sustained social contribution activities undertaken by SEVEN-ELEVEN (CHENGDU), the company received the Annual Social Contribution Award from the Chengdu Retailers Association in April 2016.
Amount of donations to Benevolence House from SEVEN-ELEVEN (CHENGDU)
| 2014 | 2015 | 2016 |
| --- | --- | --- |
| 1,990 yuan | 800 yuan | 1,937 yuan |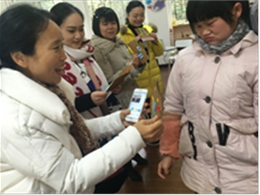 A visit to Benevolence House
Certificate of Appreciation from Benevolence House
Creating Fulfilling Workplaces
In continuing to expand our network of stores in China, it is essential that we hire and train local employees. The three companies are focused therefore on raising the communication abilities of employees and training them to be able to think and act with autonomy. To this end, the three companies are working to provide various training seminars and create workplaces where employees are able to demonstrate their abilities to the fullest.
Supporting development of employee abilities
Operations Field Consultants (OFC) play an important role in connecting the Head Office with franchise store owners. They serve as store management consultants that provide multifaceted advice to franchise stores on overall management, including ordering, product lineups, and employee training. OFC candidates first gain store experience at training stores and learn the fundamentals of store management, which include the Four Basic Principles; unit control; employing, training, assigning and evaluating staff; and management indicators. After the candidates become OFCs, additional training is conducted to hone their job skills. For example, at meetings of all OFCs held each week, company policies are shared and training is conducted on how to communicate efficiently with franchise stores and other issues.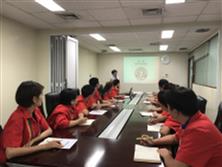 Systems to Raise Employee Motivation
The initiatives described below are implemented to provide opportunities to raise the motivation of employees and to resolve issues they may face in the workplace. In addition, SEVEN-ELEVEN (TIANJIN) and SEVEN-ELEVEN (CHENGDU) have instituted internal hiring programs that allow employees to apply for desired positions. They are selected on the basis of interviews between the applicants and the relevant Head Office divisions, the Human Resources Department, and so forth. In 2016, three people at each company were appointed to new positions through these programs. Although SEVEN-ELEVEN (BEIJING) has not instituted a formal internal hiring program, the company grasps the desired positions of employees when conducting interviews with candidates and through other means. When the relevant departments have openings according to operational and personnel assignment needs, the company compares these conditions with the information on file for each employee, and then interviews candidates and transfers personnel that satisfy the required conditions.
Examples of opportunities to resolve issues faced by employees and to obtain feedback from them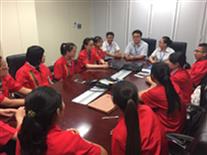 Operate a contact desk so that employees can consult with the company on issues
Interviews with employees by personnel departments
Interviews with new employees by supervisors
Organize employee get-togethers to promote closer interaction and socializing among employees
Questionnaires for employees
Share information about role models among employees by conferring awards upon talented employees
Fair Evaluation and Remuneration
The three companies have adopted an employee evaluation system that combines monthly interview evaluations and yearly evaluations. Monthly interviews are conducted between employees and their direct supervisors to discuss the rate of progress toward their performance goals. After self-assessments are carried out by each employee, yearly interviews and evaluations are then conducted by the direct supervisor and a secondary, higher-level supervisor. Monthly evaluations are based on company, divisional and individual performance. For managers who perform evaluations, regular training is carried out on matters such as monthly evaluation methods for subordinates and on determining pay in accordance with these evaluations. The training enables managers to obtain the correct knowledge on these matters.
Barring special circumstances, employees of the three companies leave their workplaces at the appointed times when their shifts end. If overtime is deemed to be necessary, employees must seek permission from their supervisors in advance. Procedures call for supervisors to manage the daily and monthly overtime hours of employees in order to prevent employees from doing unnecessary overtime.
Promoting the Advancement of Women
In China, the labor contract laws have been designed to provide male and female employees with generous leave related to childbirth and childcare. Moreover, men and women are treated equally, and it is common practice for women to continue working after marriage. This legal system and practice of appointing managers based on ability work together to promote the appointment of women to managerial positions. In 2012, the first Chinese woman chairman was appointed at SEVEN-ELEVEN (TIANJIN). In 2013, a female vice general manager was appointed at SEVEN-ELEVEN (BEIJING), followed by another in 2014 at SEVEN-ELEVEN (CHENGDU). Appointments continued in 2016, and women currently occupy approximately half of the non-executive managerial positions at the three companies.
Employee-Related Data (As of December 31, 2016)
| | SEVEN-ELEVEN (BEIJING) | SEVEN-ELEVEN (TIANJIN) | SEVEN-ELEVEN (CHENGDU) |
| --- | --- | --- | --- |
| Full-time employees (Male and female) | 603(332・271) | 228(100・128) | 310(145・165) |
| Part-time staff | 1,097 | 640 | 476 |
| Number of employees | 1,700 | 868 | 798 |
| Ratio of employees with disabilities | 2.0% | 2.6% | 3.1% |
| Ratio of women in management positions, excluding executives | 55.2% | 45.0% | 57.0% |
Reducing Environmental Impact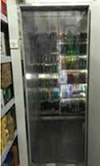 The Chinese government has been putting great emphasis on climate change issues. In 2012, the Beijing government initiated a pilot project for an emissions credit trading scheme. Under this scheme, companies that emit more CO2 emissions than their allotted emissions limit must purchase CO2 emissions credits on the market in the amount of the excess emissions. The three companies are implementing measures to reduce electricity consumption, including installing LED lighting and other energy-efficient equipment, and installing curtains to prevent cool air from flowing out of walk-in refrigerators (photo on the right), along with raising the environmental awareness of employees.
Energy Conservation Measures at Stores
As part of the 7-Eleven Global Campaign to Fight Climate Change*, the three companies implemented the following initiatives in 2016:
 (1) Study seminars for employees on the causes and effects of climate change and on electricity conservation measures at stores were held in June
 (2) Posters on the 7 Rules of Electricity Conservation were displayed in backrooms of stores in the week spanning July 11 (7/11), and the electricity conservation measures studied as part of item (1) above were executed in stores.
At SEVEN-ELEVEN (BEIJING) and SEVEN-ELEVEN (TIANJIN), electricity consumption increased in 2016 due to an increase in microwave ovens and other equipment in stores, in addition to an increase in the number of stores. In response, the two companies plan to implement various electricity conservation measures in 2017. For example, SEVEN-ELEVEN (BEIJING) plans to clean filters at all stores, along with rigorously enforcing air conditioner temperature settings. Meanwhile, SEVEN-ELEVEN (TIANJIN) plans to convert all lighting in franchised stores and the lighting in all heated display cases to LED lights.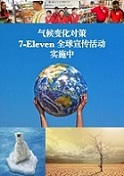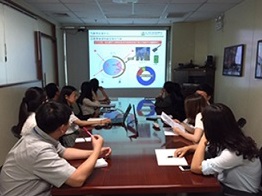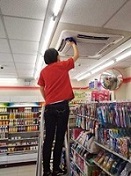 Store Environmental Data
SEVEN-ELEVEN (BEIJING)
| | FY2014 | FY2015 | FY2016 | FY2017 |
| --- | --- | --- | --- | --- |
| Number of stores | 150 | 175 | 187 | 219 |
| Electricity consumption (MWh) | 19,648 | 19,366 | 18,122 | 24,856 |
| Water usage (1,000 m3) | 69 | 73 | 75 | 96 |
| | FY2014 | FY2015 | FY2016 | FY2017 |
| --- | --- | --- | --- | --- |
| Number of stores | 56 | 60 | 70 | 82 |
| Electricity consumption (MWh) | 8,472 | 6,164 | 5,278 | 7,027 |
| Water usage (1,000 m3) | 21 | 20 | 18 | 24 |
| | FY2014 | FY2015 | FY2016 |
| --- | --- | --- | --- |
| Number of stores | 66 | 60 | 67 |
| Electricity consumption (MWh) | 7,319 | 7,746 | 6,031 |
| Water usage (1,000 m3) | 28 | 24 | 18 |
Environmental Measures at Dedicated Plants
In order to avoid wasting resources, efforts are being made at the Beijing Wang-Yang Foods and JEANAVICE factories, both of which are dedicated plants of SEVEN-ELEVEN (BEIJING) and SEVEN-ELEVEN (TIANJIN), to utilize unneeded food materials generated by each plant. The Beijing Wang-Yang Foods Factory reuses unneeded food as feedstock for a pig farm, whereas the JEANAVICE Factory has a nursery collect residual bread under contract. Both plants use wastewater treatment facilities that clean water to the same or higher standard than government standards to ensure that polluted water is not discharged. The JEANAVICE Factory has wrapped insulation materials around the exterior of its boiler. Doing so has increased the combustion efficiency of the boiler. As a result, natural gas consumption in 2016 was reduced by approximately 20% compared with the previous year.