Material Issue 5 Building an Ethical Society and Improving Resource Sustainability Together with Customers and Business Partners
Sustainable Procurement of Raw Materials
To ensure sustainable use of natural resources across future generations, Seven & i Holdings formulated the Basic Policy on Sustainable Procurement and has been promoting initiatives in collaboration with various stakeholders.
Sales of Products Certified by the Aquaculture Stewardship Council (ASC Certification)
In March 2011, Ito-Yokado joined a project advanced by the Tokura Office of the Miyagi Prefecture Fisheries Cooperative's Shizugawa Branch to restore and achieve a sustainable marine industry in terms of economic and other aspects in tandem with protecting the bountiful marine environment. In October 2016, Ito-Yokado commenced the sale for the first time in Japan of farmed oysters that have obtained Aquaculture Stewardship Council (ASC) certification, an international certification system for environmentally and socially responsible aquaculture businesses. The farmed oysters were grown by the cooperative.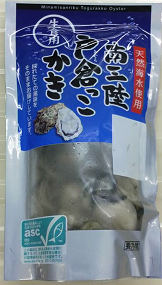 Farmed oysters with ASC certification
Sales of Alaska Seafood Products
Seven & i Group stores actively sell and convey to customers the quality of Alaska Seafood products, which are sourced through environmentally friendly fishing practices. In Alaska, the source region of the brand's all-natural marine products, Alaska Seafood strictly manages resources and fisheries to ensure that the ecosystem that nurtures these natural marine resources is not impaired.
In the fiscal year ended February 28, 2018, Group companies held events and took other measures in August to promote sales of Alaska Seafood. For example, Sogo & Seibu conducted in-store promotions for, and informed customers about the appeal of, Alaska Seafood through demonstration sales conducted by chefs and other programs at 10 stores. The company also promoted Alaska Seafood as traditional year-end gifts and presented original recipes in the Beaujolais Nouveau special feature of a wine magazine.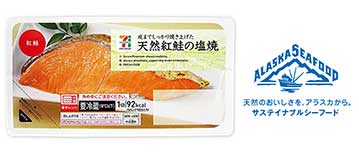 Seven Premium Benizake no Shioyaki
Procurement of Organic Products
In response to rising consumer interest in product safety and reliability in recent years, Seven & i Holdings started selling 100% Organic Cotton Innerwear products for women under the Seven Premium Lifestyle private brand in December 2015. These products are sold at around 192 Ito-Yokado and York Benimaru stores throughout Japan and the Group's integrated portal website, omni7. The cotton used as raw materials in these products is only organic cotton that meets U.S. Organic Content Standards (OCS). Apart from these products, Seven & i Group companies also sell items such as organic cotton towels and apparel, as well as organic coffee and loose leaf tea.
*
Organic Content Standards (OCS) is an organic certification body that evaluates and verifies organic material content claims on products based on the OE Blended Standard established by the Organic Exchange, a U.S.-based non-profit business organization.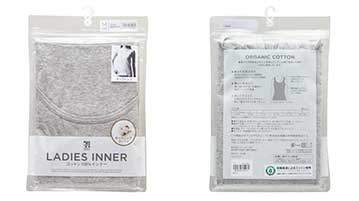 Seven Premium Lifestyle 100% Organic Cotton Innerwear
Handling of Low-Agrichemical Products
Ito-Yokado and York Benimaru sell private brand products that use fewer agrichemicals than the values regulated by law. Examples include the Fresh Vegetables with Traceability and Fresh Fruits with Traceability private brand products sold at Ito-Yokado. Although these products are not completely organic, they are grown with fewer agrichemicals, and assure traceability of the growing region and growing history. Sales of these products in the fiscal year ended February 28, 2019 were approximately \22.6 billion.
The methods and frequency of use of agricultural chemicals vary by region and crop. The Fresh Vegetables with Traceability category and certain other products comprise foods grown with the goal of applying agrichemicals with half or lower of the usual frequency of each growing area (the average number of applications for each crop stipulated by local government organizations and other public bodies).
In addition, at our Seven Farms, which are engaged in agricultural operations, and under our Fresh Vegetables with Traceability and Fresh Fruits with Traceability brands, we aim to ensure safe agricultural produce, correct farm management, and so forth, and have acquired Japan Good Agricultural Practice (JGAP) certification. JGAP is an agricultural production management method recommended by the Ministry of Agriculture, Forestry and Fisheries of Japan. It provides a set of standards to be followed in daily farm management to increase food safety and ensure environmental conservation. Since JGAP includes standards relating to "food safety" and "environmentally sustainable agriculture," these products use the minimum necessary level of agricultural chemicals.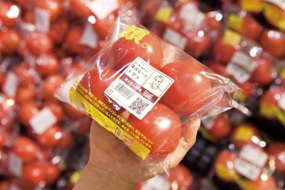 Fresh Vegetables with Traceability
Five Promises of Fresh Vegetables with Traceability and Fresh Fruits with Traceability
Stores only stock domestically grown agricultural products.
Producers who properly grow vegetables on suitable land are carefully selected from all over Japan.
Products are delivered to customers under the name of each individual producer.
Discerning techniques and personalities are introduced on the website and on sales floors.
Agrichemical reduction targets are set and continuous checks are performed.
Management of soil, water and propagation materials
Fertilizer management
Agricultural management
Hygiene management during harvesting and transport
Agricultural produce handling
Environmentally Sustainable Agriculture
Water conservation
Soil conservation
Consideration for surrounding lands
Waste management, reduction and recycling
Energy efficiency
Environmental awareness and consideration for biodiversity
Use of FSC-Certified Paper
Seven & i Holdings is promoting use of paper with FSC® certification and PEFC certification, which leads to forest preservation. In March 2017, we started using FSC®-certified paper for paper board boxes in our Seven Premium private brand. As of February 28, 2019, FSC®-certified paper is used for 291 items including ice cream containers, and PEFC-certified paper is used 24 items.
At Seven-Eleven Japan in the fiscal year ended February 28, 2017, we switched to FSC®-certified paper for the display stands for selling SEVEN CAFÉ bakery items.
Meanwhile, at Seven Bank, cash envelopes at ATMs and the Bonolon, Warrior of the Forest magazine are made using FSC®-certified paper.
Initiatives for Material Issue 5