Material Issue 5 Building an Ethical Society and Improving Resource Sustainability Together with Customers and Business Partners
Promotion of Ethical Consumption
Seven & i Holdings will create a business model that contributes to the development of a sustainable society through the provision of products that are considerate of people, society, and the global environment. We consider this to be an essential aspect of business development. In particular, we will strive to provide products and services that are compatible with "ethical consumption," which has been drawing attention in recent years.
Environmentally Friendly SEVEN CAFÉ
SEVEN CAFÉ brand products are sold at Seven & i Group stores, mainly 7-Eleven. In the fiscal year ending February 28, 2018, we expect to sell 1 billion beverages. Many customers support SEVEN CAFÉ, which is promoting environmental considerations in various ways. For example, forest thinning material is used for the outer sleeves for hot beverages. Cups for iced beverages use a compound material that includes recycled PET. We are also working to cut down our use of limited resources, for example by making cups lighter and thinner.
In the fiscal year ending February 28, 2018, we have developed an antibacterial deodorizer that uses recycled coffee grounds collected from some of our stores. The new product is being used for cleaning at 7-Eleven stores.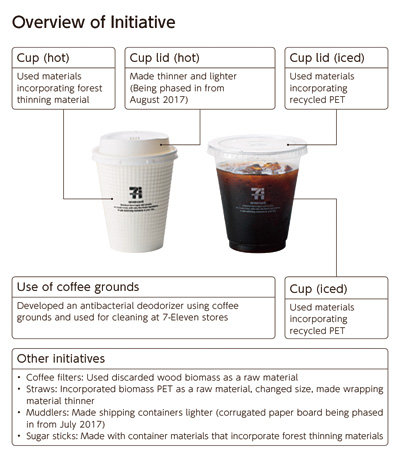 Environmentally Friendly SEVEN CAFÉ
Sales of Rice Cultivated while Protecting the Environment and Biodiversity
Ito-Yokado sells a rice series that not only uses fewer agrichemicals and chemical fertilizers, but also encourages "biodiversified farming," in which rice fields also service as wildlife habitats. Part of the sales are donated for environmental improvements. In the fiscal year ended February 28, 2017, sales of Koshihikari Rice Nurturing White Storks provided approximately \60,000 for nurturing oriental white storks, while sales of Sado, Niigata Prefecture-Produced Koshihikari Rice Certified by the Creating Villages Coexisting with Crested Ibis Program provided approximately \160,000 to the Fund for the Improved Habitat for the Japanese Crested Ibis.
Rice cultivated while protecting the environment and biodiversity
Sogo & Seibu is promoting the use of "green wrapping," for customers when they order gifts. This involves the purchase of a wrapping ribbon with a leaf-shaped mascot for an additional price of \100, of which \50 is donated to tree planting and growing activities. In this way, the giver can also provide the recipient a chance to think about the environment. One tree is planted for every 80 ribbons sold. In addition, customers purchasing ochuugen and oseibo (summer and winter) gifts who agree to simple packaging also contribute to tree planting, with one tree planted for every 4,000 gifts that use the simple packaging option. (Between 2009 and February 28, 2017, 10,451 trees were planted).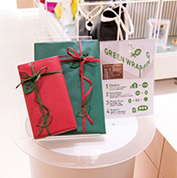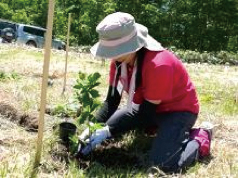 Employees carefully plant seedlings provided by the kindness of customers
Introducing Ethical Fashion
Sogo & Seibu held the ethical fashion event "Enjoy Ethical" at the Sogo Yokohama store in May 2017.
In addition, bags made by single mothers in Uganda, Africa using unique African print fabrics were sold at a limited time event at five Sogo & Seibu stores. The event provided customers an opportunity to encounter ethical fashion while enjoying fashion and contributing to society.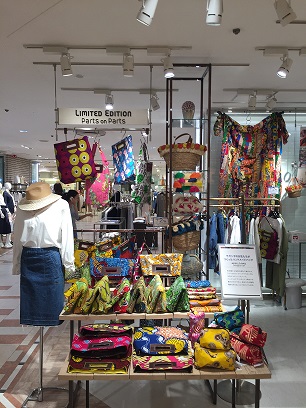 Sale of bags made by Ugandan women
Initiatives for Material Issue 5