Material Issues 5 Building an Ethical Society and Improving Resource Sustainability Together with Customers and Business Partners
Strengthening Implementation of the Business Partner Action Guidelines
Seven & i Holdings is strengthening implementation of the Business Partner Action Guidelines to provide customers with safe, reliable products and fulfill its social responsibilities in cooperation with business partners on matters such as human rights, labor issues, and the environment.
Ensure Implementation of Business Partner Action Guidelines
Seven & i Holdings formulated the Seven & i Holdings Business Partner Action Guidelines in 2007, and revised them in April 2017 to form the Seven & i Group Business Partner Action Guidelines (the "Guidelines"), which all business partners are requested to understand and observe. The Guidelines are designed not only to guarantee the safety and quality of the Group's products and services but also to promote consideration for legal and regulatory compliance, environmental conservation, and labor conditions throughout the supply chain so that we can fulfil our corporate social responsibility together with our business partners. The Guidelines are communicated to business partners of Group companies through various meetings.
Seven & i Group Business Partner Action Guidelines (Excerpt)
Legal Compliance
Respect for Human Rights
Human Resources and Workplace Environment
Preservation of Global Environment
Relationship with Local and International Communities
Information Management
Product Safety Assurance
Fair Business Practices
Protection of Intellectual Property
Management of Import and Export Transactions
Extension to Supply Chains
Monitoring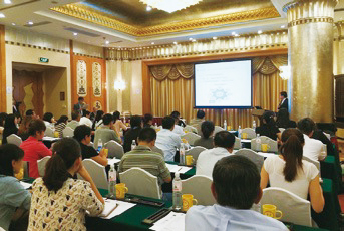 At a briefing for business partners on the Business Partner Action Guidelines
Compliance with the Guidelines through the Self-Check Sheet
To ensure that business partners understand the Guidelines and to assist with effective CSR initiatives, the Seven & i Group administers a self-check sheet for business partners, explaining all of the specific requirements of the Guidelines.
In drafting the check sheet, we referred to sources such as the ISO 26000 standard, the Japan Business Federation's Charter of Corporate Behavior, and the OECD Guidelines for Multinational Enterprises. Business partners including manufacturers of the Group's universal strategic private-brand products Seven Premium and 7- Eleven original daily product manufacturers, as well as distribution centers and IY's direct import suppliers overseas are asked to submit the check sheet annually. We administer these check sheets to ascertain the status of our business partners' CSR activities.
In the check sheets, the respondents answer 61 questions, including whether there are any breaches in compliance, whether a consulting desk is available to plant workers, whether a business partner requests that its own suppliers comply with the Guidelines, and whether the formation of labor unions is permitted. The check sheet also asks business partners to confirm the CSR-related certifications (SA8000, BCSI, SMETA, ICS, ICTI, WRAP, EICC) that its factories have obtained.
Responses to this check sheet are entered into a database, and buyers determine whether or not to continue doing business with a business partner based partly on the business partner's level.
Self Check Sheet Items (Excerpt)
Legal Compliance
Respect for Human Rights and Dignity
Human Resources and Workplace Environment
Preservation of Global Environment
Relationship with Local and International Communities
Information Management
Product Safety Assurance
Fair Business Practices
Monitoring
(Questions about whether a business partner has prepared documentation and implementation records that prove compliance with the Guidelines.)
The Flow of Business Partner Action Guidelines: Seven Premium as an example

Conducting CSR Audits of Business Partners
Seven & i Holdings has defined as critical suppliers* the factories of business partners we have asked to submit self-check sheets since the fiscal year ended February 28, 2013 that we have determined are particularly important from the perspective of risk management, and we conduct CSR audits of those factories to determine the status of compliance with the Guidelines.
The CSR audits are performed by an external third-party auditing organization based on our independently established CSR audit program (approximately 114 items in 16 categories.) The CSR audit items are based on the content of ISO 26000, and the audit examines whether a factory complies with the principles laid out in the Guidelines in the following 16 categories. These categories are aligned with the international labor standards established by the International Labour Organization (ILO).
*

Contract manufacturing factories for Seven Premium (privatebrand) products and contract manufacturing factories in China and Southeast Asia (13 countries) that manufacture the private- brand products of Group companies.
CSR Audit Category (16 Categories)
1. Implementation of Management System and Rules
Organizations must implement and maintain a system in compliance with all items of the Seven & i Group Business Partner Action Guidelines
To the extent feasible, organizations should extend the Guidelines to their own supply chains.
Organizations must monitor and comply with the relevant laws and regulations, as well as international treaties and so forth.
There must be no forced, bonded or coerced prison labor.
Employers must not force workers to make a financial deposit or submit their identification documents. After giving adequate notice, workers may resign freely as they wish.
National and regional laws pertaining to forced labor are recognized.
3. Freedom of Association
Workers have the right to establish or join labor unions of their own choosing without being subject to discrimination, and hold the right to collective bargaining.
Local laws and workers' rights concerning freedom of association are recognized.
Safety protection measures must be applied to equipment and machinery and preventive maintenance must be undertaken.
Chemicals must be handled and stored appropriately.
All necessary protective equipment must be purchased and regularly replaced.
5. Child Labor and Young Underage Workers
Children must not be put to work.
Young workers under the age of 18 must not be put to work at night, or in a hazardous environment. This work includes tasks using chemical substances, work near such substances, or work where there is hazardous machinery, heavy labor, or excessive noise. Night shifts and work for long hours are also included.
Overtime allowances must be paid at the required statutory ratio.
All allowances and benefits must be provided to workers as required by law.
Workers must not be habitually required to work over 48 hours per week. On average, workers must be given a rest period of one day every 7 days. Overtime must be voluntary and must not exceed 12 hours per week. Overtime must not be habitually requested and additional fees must always be paid.
Discrimination in the course of recruitment, remuneration, provision of training, pay raises, dismissal and retirement is prohibited with respect to race, class, nationality, religion, age, disability, gender, marital status, sexual orientation, union membership, or political party affiliation.
To the extent possible, operations must be executed on the basis of generally accepted employment relationships based on national laws and regulations.
10. Subcontracting Agreements, Domestic Industry, Outsourced Processing
Subcontracting is not permitted without the prior consent of customers.
Physical abuse or punishment, threats of physical abuse, sexual or other forms of harassment, or verbal abuse or threats, must be prohibited.
Disciplinary methods must be fair and effective and must not be arbitrary.
Employers must show respect for the mental, emotional and physical health of workers in connection with the necessary disciplinary action.
Organizations must pursue continuous improvement in their environmental performance and, at the very least, comply with local requirements and international laws and regulations.
Chemical substances prohibited by international treaties, or laws and regulations, must not be used.
13. Fair Business Practices
Laws and regulations related to fair business practices must be understood and complied with.
14. Ensuring Product Safety
Products delivered to each Seven & i operating company must comply with the quality standards requested by each relevant operating company and comply with relevant legal standards established in Japan.
Security systems must be in place to ensure protection from access with malicious intent.
16. Interests of Local Communities
Relationships with anti-social forces must be rejected.
Factories are given prior notice before being visited for audits, and compliance with CSR audit items is confirmed through interviews with managers and workers. If the audit finds items that do not comply with the audit program (unacceptable items), the external audit organization provides guidance to the business partner concerned. The business partners must submit a corrective action plan (CAP) to the auditing organization within 10 days of the audit being completed, and must take immediate action to improve the items. After receiving a report on the completion of improvements for the relevant items, the completion of improvements is confirmed based on the submission of photos showing the improvements, guarantee documents and other materials. However, in cases that exceed certain standards, such as when numerous serious unacceptable items are found, the resolution of issues is confirmed by revisiting the factory to perform a re-audit.
When the unacceptable items are remedied or the auditing organization and Seven & i Holdings judge that the content of the CAP to be satisfactory, a Compliance Certificate is issued to the relevant business partner.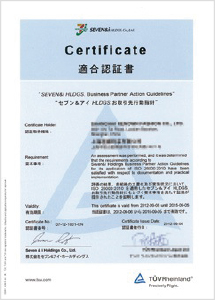 Audit Results for the Fiscal Year Ended February 28, 2018
In the fiscal year ended February 28, 2018, CSR audits were conducted at 215 factories in 13 countries, including China, Vietnam, Thailand, Indonesia, Cambodia, and Myanmar. The average compliance rate across all audited factories was 94.4%, with re-audits at 12 factories. The majority of items for improvement were due to insufficient recognition or misinterpretation of items required under local laws and regulations, and mainly involved labor environment, safety and hygiene, and approvals and authorizations. After their audits, each factory provided a CAP, photos showing the improvements and guarantee documents, and re-audits were carried out, enabling us to confirm that improvements were successfully made.
Examples of Cases Requiring Re-audits in the Fiscal Year Ended February 28, 2018
(All problem items have now been remedied)
Non-notification of long work hours or hours in excess of legal limits
Incorrect handling and storage of hazardous chemicals
Operation and driving of machinery without a license
Non-performance of environmental assessment
Use of an unlicensed waste disposal contractor
Number of factories for audit
Number of factories audited
Re-audit rate
Number of factories for re-audit
FY2012
374
17
5.9%
1
FY2013
29
20.7%
6
FY2014
256
11.3%
29
FY2015
226
226
3.9%
9
FY2016
245
245
8.5%
21
FY2017
215
215
5.6%
12
FY2018 target
500
500
0%
0
Initiatives for Material Issue 5