Material Issue 4 Supporting the Active Role of Women, Youth and Seniors across the Group and in Society
Achieving Work-Life Balance
Seven & i Holdings is promoting the concept of "work-life synergy," which aims to create synergies by utilizing the perspective of a consumer in work while simultaneously leveraging the lessons of work in life. We have a range of assistance systems that exceed minimum legal requirements to enable diverse employees work with peace of mind. To make it even easier for employees to work, we are also taking steps to correct long working hours and encourage the use of paid leave.
Enhancing Childcare and Family Care Assistance Systems
The Seven & i Group has implemented various systems that go beyond legal minimums to enable employees, including part timers, to continue working with peace of mind while engaging in childcare or nursing care.
For example, at Ito-Yokado, which has some 40,000 employees, the most among the Group's operating companies, there is a childbirth and childcare program and a family care program that can be utilized by employees, both men and women, who have worked at the company for at least a year; the programs are also available to part-time employees. The programs may be freely selected for use by individual employees, and combining a leave program with a reduced work hours plan is also possible.
| | |
| --- | --- |
| Ito-Yokado's Childcare and Family Care Assistance Systems | |
Childcare Assistance System
Family Care Assistance System
Reduced work hours
Employees can work reduced hours until April 15 of the year their child starts junior high school.
*Can be combined with other leave programs.
Employees can work reduced hours for up to three years following the initial reason.
*Can be combined with other leave programs.
Work until 7:00 p.m.
Full-time employees can end their workday at 7:00 p.m. until April 15 of the year their child starts junior high school
None
Leave
Employees can return to work after taking leave for up to two years.
*Up to three years depending on the circumstances
(Can be combined with short working hours).
Employees can take up to a one year of leave following the initial reason. The leave can also be split up and taken at different times.
*Can be combined with short working hours.
Reemployment
Employees resigning to focus on childcare are given priority in hiring for three years.
Employees resigning to focus on family care are given priority in hiring for three years.
Supporting Active Involvement of Employees Raising Small Children
SEJ began the "Spot Day Care" initiative in October 2016 to support the careers of employees raising small children. SEJ, the franchise chain headquarters, is responsible for providing support for franchised stores, and is involved in distribution and retail operations, so holidays and the New Year vacation period, which are peak times for retail, are basically working days. However, for employees raising small children, it can be difficult to find day care on holidays, over New Year, and during other extended vacation periods, so this initiative establishes temporary day care facilities in company meeting rooms and at facilities near the company's business offices. It was started on a trial basis at four business offices, and starting in May 2017 it was put into full operation and extended to 27 offices. We aim to expand the program to all 34 offices going forward.
Spot Day Care was expanded to 14 Seven & i Group companies starting in May 2017, creating environments where employees can pursue their careers throughout the Group.
In October 2017, two Seven Nanairo Nursery Schools were opened in Ota-ku, Tokyo, and Hiroshima City. These facilities are available for use by Seven-Eleven store operators and employees as well as local residents and SEJ employees. Additional schools were opened in Sendai City in July 2018 and in Machida City, Tokyo and Kyoto City in June 2019. There are plans to open additional schools in stages.
Meanwhile, Ito-Yokado has introduced nursery care facilities comprising authorized nursery facilities and company-led nursery facilities to eight sites in Tokyo and four other prefectures as tenants within shopping centers. Employees and local residents are utilizing these facilities.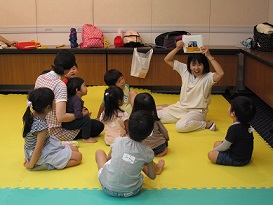 At a Spot Day Care facility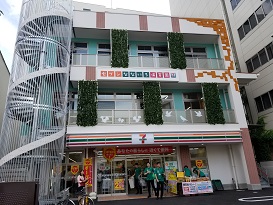 The exterior of a Seven Nanairo Nursery School
Platinum Kurumin Certification
Ito-Yokado has become the first company in the Tokyo Metropolitan Area to receive "Platinum Kurumin" Mark certification from the Ministry of Health, Labour and Welfare, following a revision of the Act on Advancement of Measures to Support Raising Next- Generation Children in June 2015. "Platinum Kurumin" is awarded to companies that have already received "Kurumin" certification and have advanced use of systems to support balancing work with childcare to a significant degree while implementing measures at a high level. The system was established in 2015 to promote continued initiatives. Ito-Yokado has already received the "Kurumin" certification twice, and has actively utilized its Re-Challenge Plan, a personnel system for supporting childcare to help workers balance work and childcare. Other initiatives include holding opinion exchange events with employees who are involved in childcare, diversity seminars at store manager meetings, and promoting the taking of annual paid leave by employees, especially part-time workers. These activities were highly rated. Ito-Yokado will make even further efforts to create an environment where employees can work with peace of mind going forward.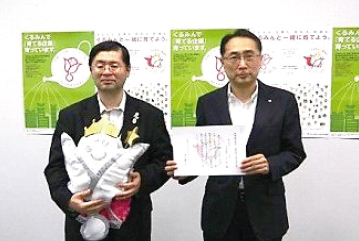 Corporate certification ceremony (June 2015)
Promotion of Participation by Men in Housework and Childcare
To promote greater participation by men in childcare, a childcare leave program has been phased in at Seven & i Group companies since November 2014. The program provides five special vacation days per year that can be used in one-day increments to employees with pre-school aged children. Since the program was started, it has been used by many employees for various reasons involving their children, such as when their spouse gives birth, or to attend kindergarten entrance and graduation ceremonies or participate in field day events. In the fiscal year ended February 28, 2018, 45 male employees took childcare leave at Seven & i Holdings, along with 377 at SEJ, and 443 at Ito-Yokado.
Encouraging Male Employees to Take Childcare Leave
In April 2017, the Seven & i Group conducted a survey of its male employees regarding their participation in childcare. In response to a question about taking childcare leave, 76% of the employees responded that they "definitely want to take" or "want to take" childcare leave. In light of these results, in August 2017, we began taking measures to encourage male employees to take childcare leave including producing and displaying posters targeting male managers and leave-takers.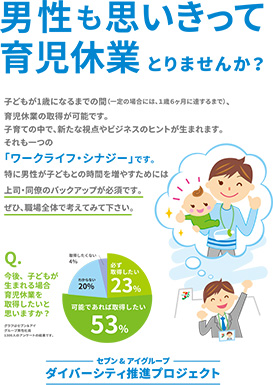 A poster encouraging male employees to take childcare leave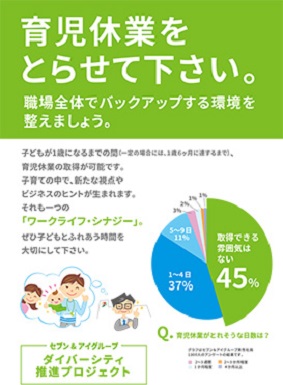 A poster targeting managers
Aiming to Eliminate Retirements Resulting from Need to Provide Family Care
Along with promoting active roles for women since the fiscal year ending February 29, 2016, the Seven & i Group also works to help employees balance their jobs with family care responsibilities.
In the near future, approximately 70% of employees may be involved in balancing these two responsibilities, so it is expected to become a major issue going forward. Given this expectation, since June 2015 we have regularly conducted seminars taught by outside experts on preparing in advance for family care responsibilities. Further, a family care community was established in November 2015 for employees engaged in balancing work and family care. The community works to eliminate anxieties by identifying issues related to the balance between work and family care and by building networks.
In October 2016, we produced the Handbook for Helping Employees to Balance Work and Family Care Responsibilities, with a view to using it in all Group companies to support the creation of working environments that make it easy to balance these commitments. Tools for conveying information on family care and preventing job separation as a result of family care for use at meetings and so on were distributed to Group companies in 2017, increasing opportunities for more employees to deepen their understanding regarding family care.
In addition, we are actively informing employees about a consultation desk established in the Health Insurance Union in an effort to create environments where employees do not feel that they have to face this issue alone.
Implementation of Volunteer Leave System
To support employee participation in local community activities for people with disabilities, family care support, environmental beautification, disaster reconstruction support, and other objectives, Seven & i Holdings, Seven-Eleven Japan, Ito-Yokado, York Mart, Seven & i Food Systems, and Seven Bank have instituted a volunteer leave system under which employees can take five days off per year for volunteer work. In the fiscal year ended February 28, 2019, 16 Group employees took volunteer leave.
Seven Bank established a telework system in the fiscal year ended February 29, 2016, that allows employees to continue to perform their jobs if they have difficulty commuting due to pregnancy, childcare or family care responsibilities, an injury or other reason.
SEJ conducted a trial of a program that allows employees to work from home in July and August 2017. Based on the operational results, we are confirming whether employees performing childcare or family care and worked from home were able to efficiently perform their jobs, and we are working to establish a formal program.
Restricting Long Working Hours
Seven & i Group conducts various initiatives to restrict long working hours. The internal newsletter distributed to the Group's approximately 70,000 employees contains a monthly column on working styles to raise awareness, and in our Diversity Management Seminars conducted since 2014, there are lectures by specialists and presentations on progressive initiatives at other companies related to work styles. Around 5,400 employees from Group companies have attended 19 seminars as of the end of February 2019. Many of the seminar participants work to increase communication with their subordinates and take further action to improve working styles.
Implementation of Sliding Work Hours
In July 2017, Seven & i Holdings and SEJ collaborated with Tokyo-based Jisa Biz to conduct a trial of staggered commuting times. Employees at the Head Office and offices in the Tokyo region were eligible to select 8 a.m., 9 a.m., or 10 a.m. as their morning work start times. The result was a decrease in overtime throughout the company. SEJ received the Jisa Biz Promotion Award in the Promotion Category from the Tokyo Metropolitan Government for this initiative.
After verifying the results of the trial introduction, Seven & i Holdings and SEJ established formal programs and introduced them on a full scale in March and April 2018 respectively. In November 2016, SEJ established a program to encourage employees to take time off (six days per year) in addition to special holidays designated by the company.
Initiatives for Material Issue 4