Material Issue 4 Supporting the Active Role of Women, Youth and Seniors across the Group and in Society
Employee Engagement Survey
Seven & i Holdings conducts an engagement survey of employees in order to promote fulfilling workplaces.
Employee Engagement Survey
Seven & i Holdings conducts a survey to measure employee engagement, which refers to the desire to "always put each individual first" and "be proud and passionate of one's work" with the desire to make constant efforts to produce results that exceed expectations. In the fiscal year ended February 28, 2019, the survey was administered to approximately 28 companies in Japan, and approximately 35,000 people responded.
Results of the Employee Opinion Survey (Example)
Percentage of employees who display autonomous desire to contribute to their work and workplace*
| | |
| --- | --- |
| Male | 50% |
| Female | 43% |
| Overall | 47% |
*Results from the survey conducted in the fiscal year ended February 28, 2019. Percentage of employees who are "Very engaged," "Engaged" and "Somewhat engaged."
Promoting Improvement Activities
The results of the survey are reported to the management teams. Then, each company analyzes the survey results and determines issues. Going forward, measures will be formulated for improvement based on the issues determined and the execution of such measures initiated. Measures for which execution has started will be verified in the next Employee Engagement Survey.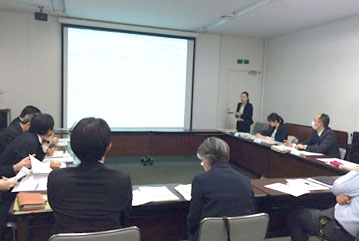 Work Satisfaction Improvement Committee.
Initiatives for Material Issue 4