Material Issue 4 Supporting the Active Role of Women, Youth and Seniors across the Group and in Society
Seven & i Holdings conducts an anonymous survey of employees once every two years on topics such as working conditions and compliance awareness.
The employee opinion survey asks questions about penetration of the corporate philosophy, employee satisfaction levels in terms of job satisfaction and growth and development through work, supervisors' management, and the workplace environment. In the fiscal year ended February 28, 2018, the survey was administered to approximately 45,000 employees at 29 companies in Japan, and approximately 40,000 people responded.
Example of Employee Opinion Survey Questions
To what degree do you feel fulfilled in your work?
To what degree do you perform your work in accordance with laws and regulations and rules?
To what degree does your supervisor manage the work-load of team members appropriately?
To what degree do you think the Company conducts environmentally considerate business activities?
Results of the Employee Opinion Survey (Example)
Percentage of employees who are satisfied with their work and workplace*
| | |
| --- | --- |
| Male | 71.1% |
| Female | 71.7% |
| Overall | 71.4% |
*
Results from the survey conducted in the fiscal year ended February 28, 2018. They are measured by respondents' agreement with the following statements: "I feel fulfilled in my work," "Employees can fully utilize their individual capabilities at my workplace," and "I agree with my personnel evaluation result.".
Promoting Improvement Activities
After the survey, personnel and CSR division employees from Group companies met to analyze their companies' survey results and held special meetings to identify issues and consider and propose improvement measures. Based on advice from outside consultants and discussions among meeting attendees, individual company's problems were identified through in-depth analysis of underlying causes, and proposals were made for issues and improvement measures. The proposals were reported back to the management teams at each Group company along with the survey results, and the companies are now individually promoting initiatives to execute the improvement measures.
To help promote improvement activities for each Group company, a Work Satisfaction Improvement Committee meeting is held regularly for sharing each company's progress and on improvement measures and issues. Representatives from each company gather according to their business format to share the implementation status and results of their measures for spreading the corporate philosophy and understanding of compliance, reducing long working hours, and increasing job satisfaction. This provides impetus for solving issues and helps spread best practices among other Group companies.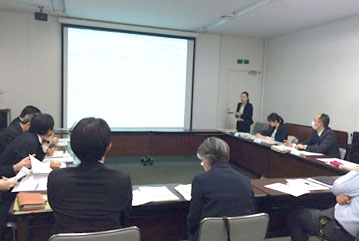 Work Satisfaction Improvement Committee.
Initiatives for Material Issue 4