Material Issue 4 Supporting the Active Role of Women, Youth and Seniors across the Group and in Society
Consideration for Occupational Safety and Health
Seven & i Holdings conducts a variety of initiatives for maintaining safe and comfortable working conditions and promoting the health of employees, including convening safety and health committees and promoting the Seven & i Health Declaration 2018.
Prevention of Workplace Accidents
Seven & i Holdings convenes safety and health committees at each Group company in accordance with laws and regulations and implements improvements to the workplace environment including working conditions, and also conducts measures to prevent workplace accidents. For example, at IY, training is conducted on the handling of knives and other implements for employees that work with fresh food products. At Seven & i Food Systems, awareness-raising posters and other campaign materials are posted at stores three times a year to bring attention to the prevention of workplace accidents. At stores where workplace accidents have occurred, interviews are conducted and the causes of the accident and specific prevention measures are shared with other stores.
| | |
| --- | --- |
| Workplace Accident Data for Eight Group Companies for the Fiscal Year Ended February 28, 2018 | |
| | Seven & i Holdings. | SEJ | IY | Sogo & Seibu | YB | Seven & i Food Systems | Akachan Honpo | Seven Bank |
| --- | --- | --- | --- | --- | --- | --- | --- | --- |
| Workplace accident frequency | 0.00 | 0.19 | 1.45 | 0.37 | 3.70 | 0.78 | 0.35 | 0.00 |
| Workplace accident severity | 0.00 | 0.00 | 0.04 | 0.00 | 0.01 | 0.02 | 0.01 | 0.00 |
*
No workplace accidents resulted in deaths.
Promoting Employee Health
When employees are healthy both mentally and physically, it not only makes their own lives more fulfilling but is also a source of vitality for the Company, and makes management more efficient. Based on this understanding, Seven & i Holdings launched the "Seven & i Health Declaration 2018" in October 2014 in partnership with Seven & i Holdings Health Insurance Union. The Health Management Committee, chaired by the Vice President of Seven & i Holdings, was established with members including human resources and labor relations supervisors and labor representatives (labor unions) at each Group company, and it is administered by the Seven & i Holdings Personnel Planning Dept., Health Management Center and Health Insurance Union. Through this promotional organization, the progress of Group company initiatives is confirmed and Group measures are planned and reviewed.
The Seven & i Health Declaration 2018 establishes targets in such areas as reducing the risk of lifestyle diseases, reducing the smoking rate, and raising awareness of cancers that affect women. The MY HEALTH WEB Health Management System, a portal website, was created as a support measure for these targets. We also hold mental health training and health-themed events, offer low-calorie, low-sodium menu items at the staff cafeteria, and provide health-related information through internal Group newsletters and other media, and help employees maintain and manage their own health.
The MY HEALTH WEB Health Management System in particular allows individuals to browse the past five years of their own health checkup data on the Internet, and serves as a tool for checking and goal-setting on health status, and for receiving advice on how to improve health. We have been distributing a smartphone app since May 2017 and creating an environment that facilitates its use.
Furthermore, Group companies have taken steps to implement appropriate health and productivity management based on the Industrial Safety and Health Act by ensuring that all employees receive regular health checks and follow up on the results, as well as making sure that stress checks are implemented for everyone.
In February 2018, this initiative was highly rated and nine Group companies – Seven & i Holdings, SEJ, IY, Sogo & Seibu, YB, Seven & i Food Systems, York Mart, Seven Card Services and Seven & i Publishing—were recognized in the 2018 Certified Health and Productivity Management Organization White 500 held by the Ministry of Economy, Trade and Industry and the Nippon Kenko Kaigi.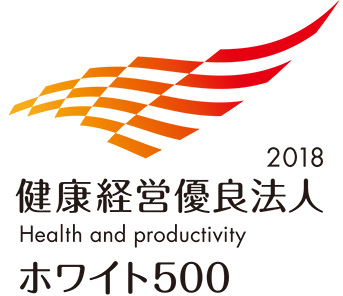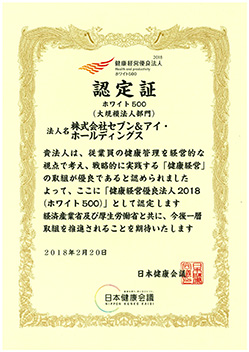 2018 Certified Health and Productivity Management Organization Certificate
| | |
| --- | --- |
| Seven & i Health Declaration 2018 | |
Targets
Specific Targets to Be Achieved by March 31, 2018
1. Maintain appropriate bodyweight and reduce lifestyle diseases
Ratio of People with a BMI over 25*
FY2015
FY2016
FY2017
March 31, 2018 Target
Male
33.6%
34.6%
35.5%
28% or less
Female
23.9%
25.0%
25.6%
18% or less
2. Reduce smoking rate
Overall Employee Smoking Rate*
FY2015
FY2016
FY2017
March 31, 2018 Target
Overall
31.6%
(Male employees: 43.1%, female employees: 23.3%)
31.3%
(Male employees: 42.8%, female employees: 23.0%)
30.3%
(Male employees: 41.3%, female employees: 22.7%)
24% or less
3. Raise awareness of cancers that affect women
Increase employees receiving breast cancer exams
4. Raise employee vitality (mental health)

Increase employee knowledge of mental health related issues
Help employees with mental health issues recover their health

5. Promote work-life balance

Reduce overtime and make working hours amenable to health and work-life balance
Encourage employees to take days off and vacation time for health promotion and reinvigoration
*
BMI and smoking data are totals for 22 Group companies participating in the Seven & i Holdings Health Insurance Society
Initiatives for Material Issue 4