Material Issue 2Providing Safety and Reliability through Products and Stores
Appropriate Disclosure of Information on Products and Services
Seven & i Holdings Corporate Action Guidelines stipulate that "We seek to display information that is accurate, easy to understand, and truthful so that customers can make an appropriate selection of products and services." Moreover, each Group company will check the following information and strive to transmit this information to customers.
Provide beneficial information to customers, taking the customer's perspective, even if the information is negative from the Company's perspective.
(For example: Consumption of this produce may be hazardous for health, etc.)
For information such as images and recordings distributed as commercials and advertisements, we will use appropriate expressions for the audience.
We will provide information that meets or exceeds the legally mandatory level with regard to health, environment, and other sustainability aspects.
Establishment of Management System for Information Provided to Customers
The Seven & i Group verifies in advance that product and price information listed in advertising media, including newspaper inserts, pamphlets, and television commercials, is accurate and that they contain no information that might mislead customers.
For example, IY requires that prior approval be obtained from its Fair Trade Committee Office when listing dual prices with the sales price and a comparison price, or discounts, in newspaper inserts and other media.
Employee Training on Product Labeling
Seven & i Holdings conducts regular, group training twice a year based on laws governing labeling such as the Act against Unjustifiable Premiums and Food Labeling Act for newly assigned purchasing personnel at Group companies to provide basic knowledge on improper labeling and excessive gifts or giveaways prohibited under laws and regulations. In the fiscal year ended February 28, 2018, 238 employees at 14 companies underwent this training.
In addition, e-learning is conducted for Group personnel involved in procurement.
In the fiscal year ended February 28, 2018, 10,333 employees from 26 companies underwent this training.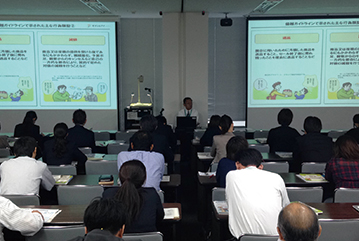 Group training on labeling
Prevention of Improper Labeling
Seven & i Holdings has established the "Group Discretionary Guideline on Imprecise Labeling," on product labeling for the Group to prevent the use of expressions that could mislead customers. The guideline is thoroughly taught to and implemented by product development and quality control staff at each Group company. For example, the expression "permanent" is not used in principle as it is difficult to rationally present the permanent efficacy of a product in the future.
Initiatives for Material Issue 2